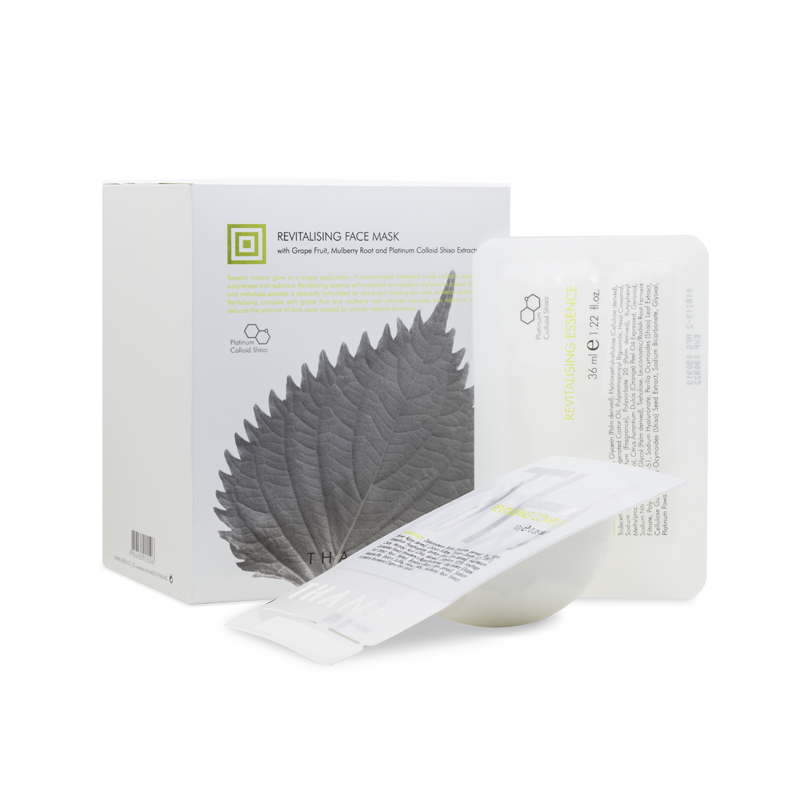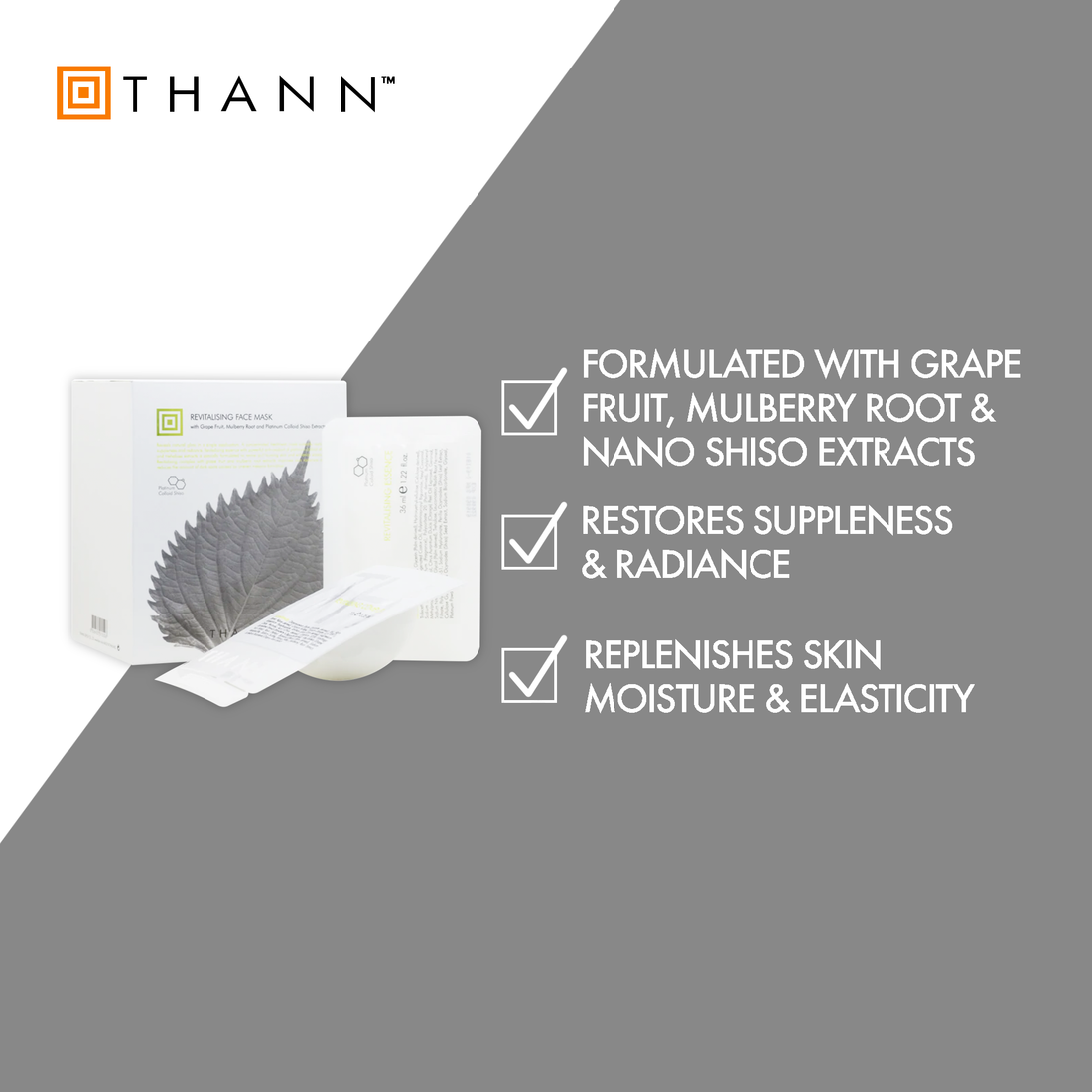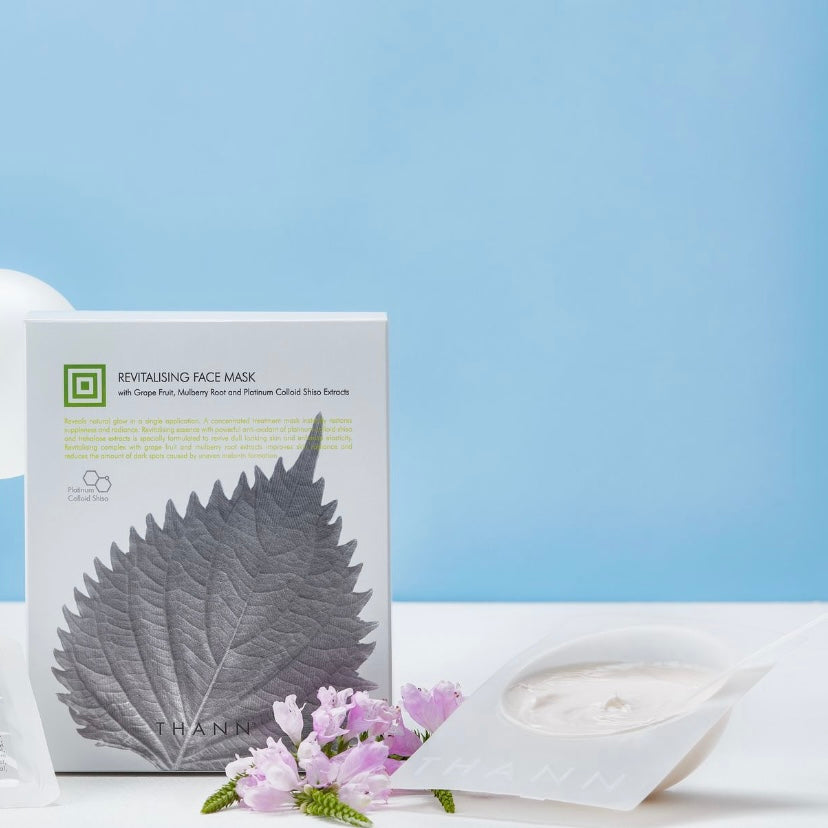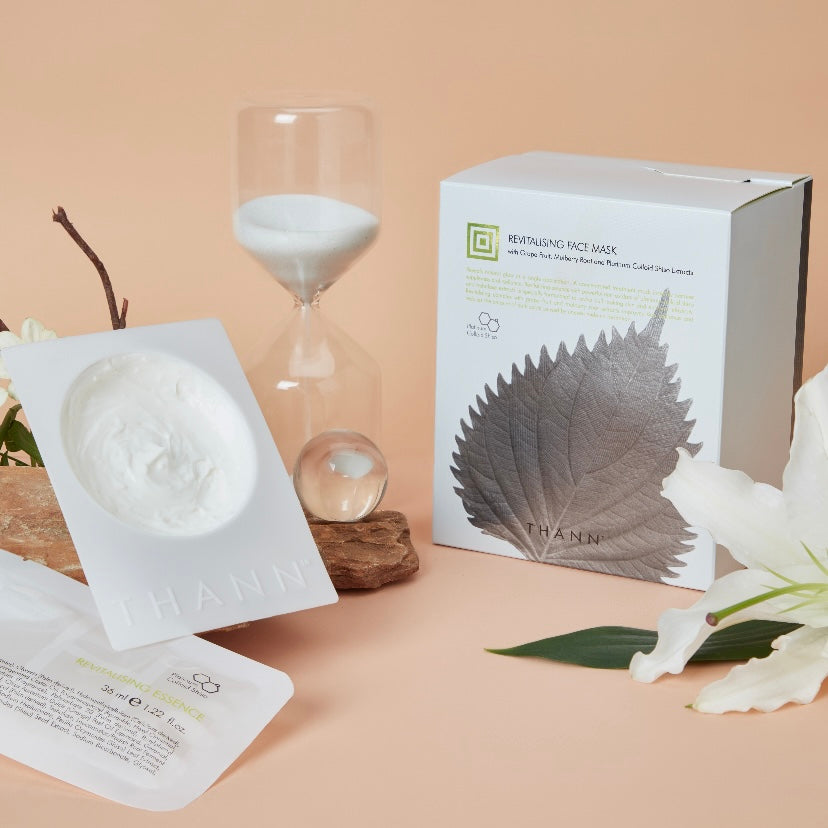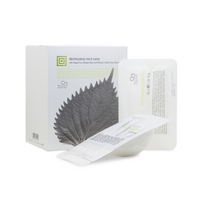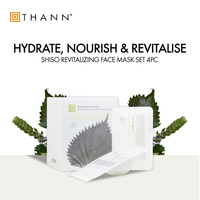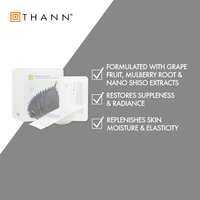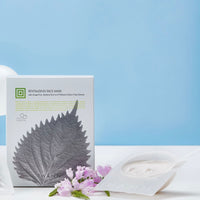 Shiso Revitalizing Face Mask Set 4pc
with Grape Fruit, Mulberry Root, and Nano Shiso Extracts

(New Packaging!) THANN Nano Shiso Revitalizing Face Mask, a concentrated treatment "modeling/rubber mask" that instantly restores skin suppleness, revives dull skin for a smooth, natural radiant, and healthy-looking appearance in a single application.

Mix in our Revitalizing Essence and Revitalizing Complex to create a modeling pack. Revitalizing Essence with Nano Shiso extract and Trehalose is specially formulated to replenish skin moisture and elasticity. Revitalizing Complex with Grape and Mulberry extracts improve skin radiance and reduce the number of visible spots.

A thick layer locks in moisture and all the nutrients to be absorbed into your skin. High in antioxidants and enriched with vitamins from Grape, Mulberry Root, and Nano Shiso extracts, this mask provides hydration, reduces signs of aging, revitalize, and soothe your skin. Each session will leave you with the appearance of hydrated, firmer, silky smooth, and younger-looking skin.

Dermatologically tested ∙ Paraben free ∙ Sulfate free ∙ Alcohol free ∙ Silicone free ∙ Mineral oil free

Key Ingredients:

- Shiso Leaf Extract contains potent antioxidants that help smooth the appearance of fine lines and wrinkle, hydrates and soothe skin.

- Saxifraga Sarmentosa Extract is known for its brightening and pore-tightening effects.

- Grape Fruit Extract has anti-aging and anti-puffiness properties. Rich in nutrients, it helps hydrate and replenish the skin and offers protective properties against pollution.

- Mulberry Root Extract brightens skin and helps reduce pigmentation from aging and exposure to UV light.

Efficacy Test: Visible Results, Expert Guaranteed

100.0% of volunteers' presented an improvement of the skin luminosity*
72.7% of volunteers' show an increase in skin brightness*
68.2% of volunteers' show an increase in skin elasticity*

*Sensory evaluation (C.L.B.T) tested result in 22 volunteers after two times a week use on the whole face over 28 days by Spincontrol Asia Co., Ltd (France).

How to use:
Pour the Revitalizing Essence and Revitalizing Complex Powder into the mixing bowl and use the spatula to quickly mix the two together until it becomes a thick mask paste. Apply a thick and even layer of the paste onto clean, dry skin. Make sure the. Make sure to apply a thicker layer at the edges of your face, this makes the peel off step easier. Leave on your skin for approximately 15 minutes until the mask becomes a rubbery solid. Gently peel off the mask and rinse off any residue. Follow with your regular skincare routine.

This set contains:

- Nano Shiso Revitalizing Essence x 1

- Nano Shiso Revitalizing Complex x 1
Winner of Singapore Women's Weekly 2019 - Best Face Mask - Anti-pigmentation 
Main ingredients
 
Efficacy test results 
 *Sensory Evaluation (C.L.B.T) tested result in 22 volunteers after two times a week use on the whole face over 28 days by Spincontrol Asia Co.,Ltd. (France)
NOTE: BOWL AND MASK WRAPS NOT INCLUDED IN SET
Testimonials 
@森绘森绘
每次去泰国热门必买,补水保湿+提亮肤色+抚平油脂粒+收缩毛孔超棒面膜! 用过一次就无法自拔!毛孔变小!鸡蛋肌!
THANN是泰国顶级SPA品牌,他们在曼谷有三个分店,Siam Paragon、Emquarters、还有一家是不在大型商场里的街铺(我只去过在商场里面的两家), Spa一定一定一定要提前预约。
今天是广州入冬后第一次鼓起勇气敷面膜,前几天太冷了已经懈怠自己的脸了。然而毕竟太干,马上掏出THANN的天然紫苏焕颜精华面膜(Revitalizing Facial Mask) 顺便写个小红书 
有的小红薯建议抹均匀后再加一层面膜纸,会更容易撕下。但我个人认为等面膜干后一片片撕下来更有感觉 😂😂😂 就像面皮一样。 慢慢看见肌肤蜕变哦!
其实知道thann这个牌子已经很久很久了,用过他家的网红产品紫苏防晒,是让朋友去泰国的时候带的,这段时间来泰国出差,休息日就会去商场闲逛,各种剁手,听说这个紫苏面膜也是明星产品,非常好用,就买了一盒来试试,毕竟价格听上去还是一点小贵的。。。
回到家洗完澡马上就拿出来用,刚买的东西总是藏不住,非要马上拆心里才舒服。。。哈哈哈哈
用完之后我就后悔了,后悔为什么只买了一盒,首先,她的味道非常好闻,这个牌子的特点就是所有的产品都是纯植物的,毕竟是泰国贵妇级的spa护理系列,味道闻着非常舒服,一盒里有三包粉末,三包精华液,买一盒面膜会送一个小碗和一个勺子还有三张棉质面膜纸。。。用的时候要把粉末和精华液混合在一起涂在脸上。。。我想说的是一包的量真心有点大,我的脸不算小,我感觉一包我可以用两次,巴掌脸的妹子,估计一包可以用2-3次,一周用1次,这样算下来其实也没有很贵啦………
敷上去之后感觉凉凉的,过一会儿就会慢慢凝固,15分钟后连同面膜纸一起拿下来就可以了,很好取下脸,然后剩余的边边角角就清水一次就可以了…………
拿下来的瞬间你就会感觉自己好像刚在美容院做完脸,那感觉一样一样的~~非常非常舒服,皮肤很有弹性很润很滑,肤色也提亮了一个色号,更绝的连粉刺也浮起来了,用手轻轻一摸就下来了……真的是服了这款面膜!!!
我感觉我会无限回购这款面膜,200多块一盒,但是可以用7-8次啊,每个星期用一次啊,所以一盒可以用一个多月呢,多囤一点也没事,打算这周末再去商场囤一些,买多是可以打折的,嘻嘻嘻嘻嘻嘻嘻 女孩子面膜sale这个单词是毫无抵抗力的……
• Dermatologically tested • Paraben free • Mineral oil free • No artificial colour
INGREDIENTS
THANN REVITALIZING FACE MASK REVITALIZING ESSENCE
Aqua (Water), Glycerin (Palm derived) (and) Sodium PCA (and)  Urea (and) Trehalose (Plant derived) (and) Polyquaternium-51 (and) Sodium Hyaluronate (Plant derived), Hydroxyethylcellulose (Plant derived), Perilla Ocymoides (Shiso) Leaf Extract, Parfum (Fragrance), Citrus Aurantium Dulcis (Orange) Oil, Methylisothiazolinone
THANN REVITALIZING FACE MASK REVITALIZING COMPLEX
Solum Diatomeae (Diatomaceous Earth), Algin, Calcium Sulfate, Tetrasodium Pyrophosphate, Ascorbic Acid(Vitamin C), Talc, Saxifraga Sarmentosa Extract, Vitis Vinifera (Grape) Fruit Extract, Butylene Glycol (Palm derived), Aqua (Water), Disodium EDTA, Scutellaria Baicalensis (Ougon) Root Extract, Morus Nigra (Mulberry) Root Extract
Please be informed that THANN reserves the right to change or adjust the formulation for optimum result without prior notice. Please refer to the ingredient list on the product package you receive for the most up to date list of ingredients.
New to Thann?
We Focus On Your Total Wellness
For over 20 years, we provide remedies with aromatherapy and natural goodness for today's hectic lifestyle.
More than ever, our modern way of living creates mental and physical imbalances.
UV Exposure, Late Nights, Prolonged Stress and Processed Foods are some examples of how our body and mind can be negatively impacted.
Learn More
Check it Out
Monthly Promotions
Don't miss out on Thann's monthly promotion, featuring discounted prices on a select group of high-quality skincare and aromatherapy products. Sign up for their newsletter to stay up-to-date on the latest deals and special offers, and treat yourself to some luxurious products at a great price.
Learn More