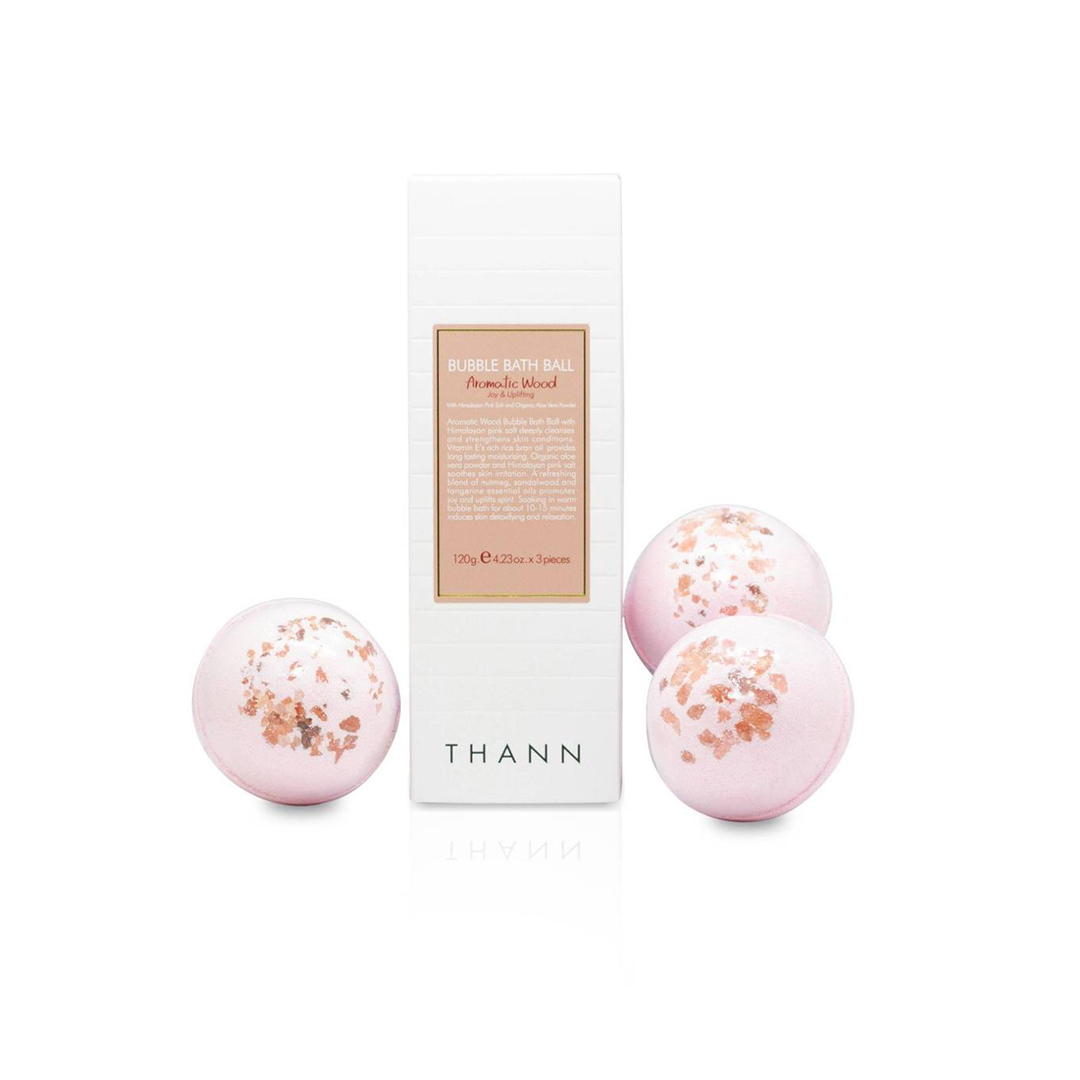 Aromatic Wood Bubble Bath Ball 360g
Indulge in the ultimate relaxation experience with Thann's Bubble Bath Ball enriched with the exquisite Aromatic Wood Essential Oil Blend. This luxurious bath time companion combines the wisdom of nature and the precision of science to provide a holistic and rejuvenating bathing ritual.
Key Ingredients and Benefits:Aromatic Wood Essential Oil Blend:
Infused with mandarin orange, nutmeg, and sandalwood essential oils, this blend creates a relaxing and joyful atmosphere.
Rice Bran Oil:
Renowned for its skin-nourishing properties, rice bran oil deeply hydrates and softens the skin, leaving it supple and radiant.
Himalayan Pink Salt:

Rich in minerals, Himalayan pink salt helps detoxify the body and soothe sore muscles, promoting a sense of well-being.
Aloe Vera Powder:

Aloe vera powder soothes and moisturizes the skin, providing relief from dryness and irritation, while supporting a healthy skin barrier.
Witch Hazel Extract:

Witch hazel extract has natural astringent properties that help tone and rejuvenate the skin, leaving it refreshed and revitalized.
Thann's Bubble Bath Ball offers more than just a luxurious bathing experience—it provides a holistic journey for your senses and your skin. Immerse yourself in the harmonious blend of natural and scientific benefits, and let your worries drift away with the bubbles. Elevate your self-care routine with Thann's Bubble Bath Ball and rediscover the art of relaxation, where tranquility meets science and nature's wisdom meets modern indulgence.
120g (4.023oz) X 3 pieces
INGREDIENTS:
Citric Acid, Sodium Bicarbonate, Sodium Chloride (Himalayan Pink Salt), Sodium C14-16 Olefin Sulfonate, Isopropyl Myristate, Oryza Sativa (Rice) Bran Oil, Hamamelis Virginiana (Witch Hazel) Extract, Citrus Aurantium Dulcis (Orange) Peel Oil, Alcohol, Limonene, Myristica Fragrans (Nutmeg) Kernel Oil, Citral, Citrus Tangerina (Tangerine) Peel Oil, Santalum Album (Sandalwood) Oil, *Aloe Barbadensis (Aloe Vera) Leaf Juice Powder, Tocopheryl Acetate, CI 19140, CI 14720

*Organic Aloe Barbadensis (Aloe Vera)
Leaf Juice Powder certified by EcoCert, France Dermatologically tested

NEW TO THANN?
We Focus On Your Total Wellness
For over 20 years, we provide remedies with aromatherapy and natural goodness for today's hectic lifestyle.
More than ever, our modern way of living creates mental and physical imbalances.
UV Exposure, Late Nights, Prolonged Stress and Processed Foods are some examples of how our body and mind can be negatively impacted.
Learn More
Check it Out
Monthly Promotions
Don't miss out on Thann's monthly promotion, featuring discounted prices on a select group of high-quality skincare and aromatherapy products. Sign up for their newsletter to stay up-to-date on the latest deals and special offers, and treat yourself to some luxurious products at a great price.
Learn More