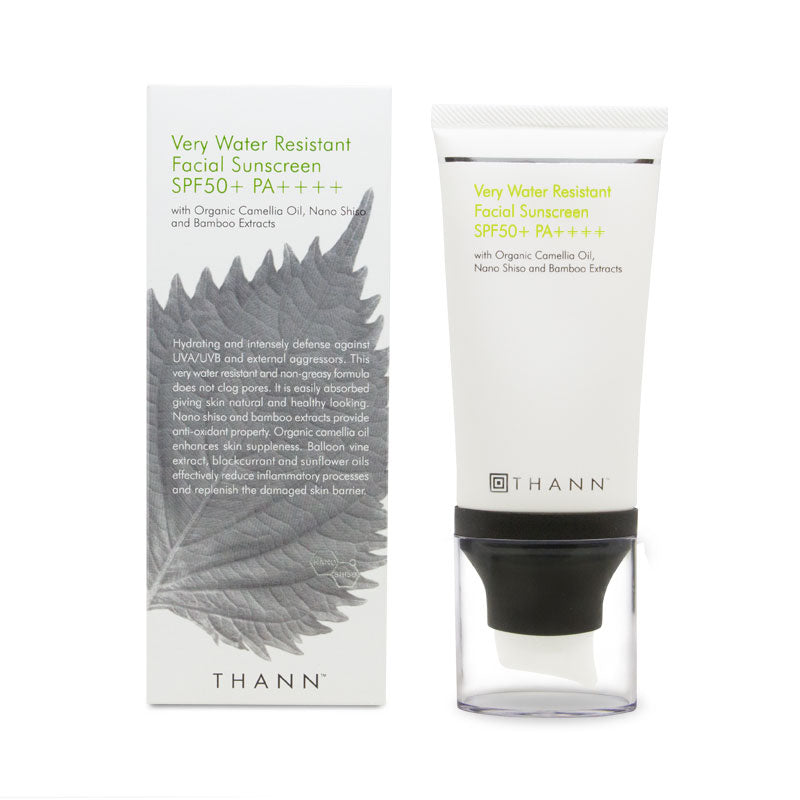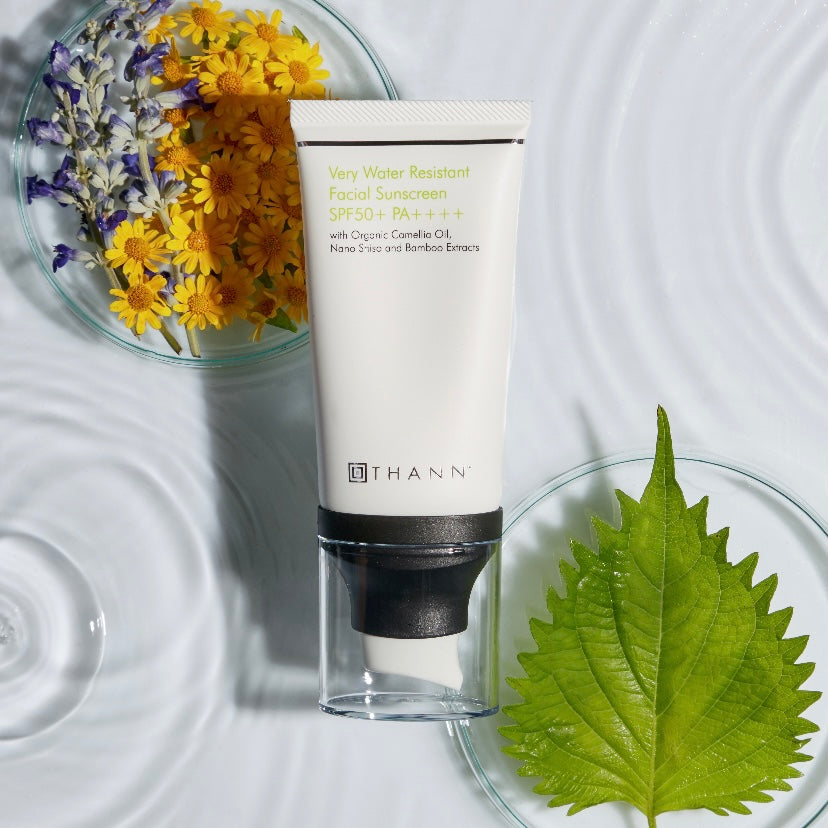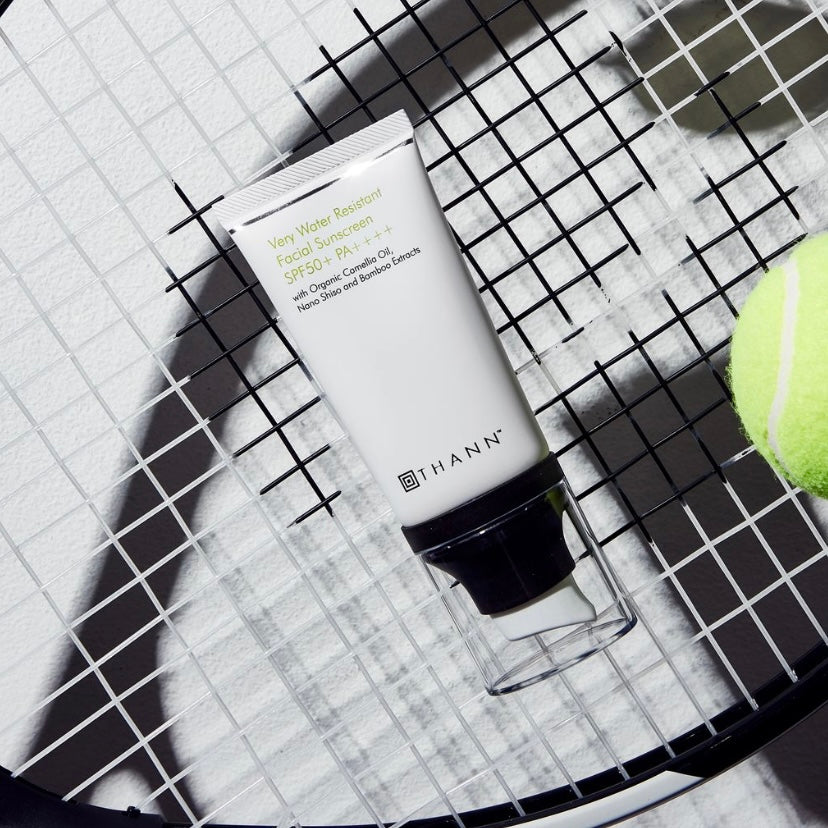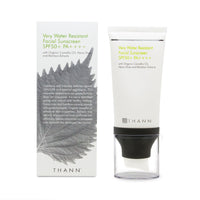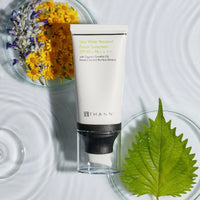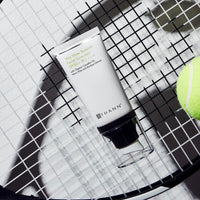 Very Water Resistant Facial Sunscreen SPF50+ PA++++ 40g
Hydrate and defend against UVA/UVB and external aggressors. This water resistant and non-greasy formula does not clog pores. It is easily absorbed giving skin natural and healthy looking. Nano shiso and bamboo extracts provide anti-oxidant property. Organic camellia oil enhances skin suppleness. Balloon vine extract, blackcurrant and sunflower oils effectively reduce inflammatory processes and replenish the damaged skin barrier.
Main ingredients 
Testimonials 
新版的紫苏防晒指数更高了 更适合夏天暴晒 去海边或者长时间户外活动。
质地比30倍的要稠一些,有点像慕斯~超级好推开,很滋润,但并不觉得很油腻,成膜很快,物化结合的防晒,略微会有一点泛白,但完全推开以后就很棒了,稍微有点提亮效果一点都不会假白~
thann是泰国一个挺高端的皮肤护理品牌,全系列产品都含纯天然植物精华~这款防晒能感觉到使用感很棒并且很透气不闷痘~我的脸颊比较敏感,这款完全没问题,没有任何不适~
之前我使用的是怡思丁防晒,这款比怡思丁要厚重一些,但也不会觉得油腻用不下去,防晒成分的话这款要胜过怡思丁,结合了有效的防晒以及抗氧化成分,会回购哟~
慕斯奶油质地,好推开,肤感很像很像毛孔妆前!!有一点肤色提亮抚平毛孔的效果,滑滑的硅感有点油油的感觉,总让我觉得会搓泥(也看好多妹子说会搓泥,但是我用了几次都没有,可能因为我都是按压的方式上粉底,反而觉得跟底妆吸附的很好!上遮瑕也更服帖了!)
我觉得有点难成膜(可能是我早上太急懒得等)防水性也……喷了个喷雾感觉就被冲开了一点点
8过,我觉得做日常通勤防晒还是很不错的,一天下来妆感还是很好的也不会闷闷的,跟团入的价格也蛮美好,还是蛮值得入的(but混油油皮还是止步吧哈哈哈哈) 
INGREDIENTS
Cyclopentasiloxane, Dimethicone Crosspolymer, Octocrylene, Ethylhexyl Methoxycinnamate, Ethylhexyl Salicylate, Cetyl Dimethicone, Butyl Methoxydibenzoylmethane, Disteardimonium Hectorite, Dimethicone/Vinyl Dimethicone Crosspolymer, Hexadecene, Phenyl Trimethicone,Polysorbate 20 (Corn and Palm derived), Phenoxyethanol, Silica, Aqua (Water), Lauryl PEG/PPG-18/18 Methicone, Octyldodecanol, Dimethiconol, Tetrasodium EDTA, Parfum (Fragrance), Triethylene Glycol, Perilla Ocymoides (Shiso) Seed Extract, Perilla Ocymoides (Shiso) Leaf Extract, *Camellia Japonica Seed Oil (Camellia derived), Ribes Nigrum (Blackcurrant) Seed Oil, Carthamus Tinctorius (Safflower) Seed Oil, Isostearyl Alcohol, Hexyl Cinnamal, Citrus Aurantium Dulcis (Orange) Peel Oil, Bambusa Vulgaris Extract (Bamboo derived),Limonene, Helianthus Annuus (Sunflower) Seed Oil Unsaponifiables, Butylphenyl Methylpropional, Linalool,Citronellol, Geraniol, Tocopherol, Helianthus Annuus (Sunflower) Seed Oil, Cardiospermum Halicacabum (Balloon Vine) Flower/Leaf/Vine Extract, Rosmarinus Officinalis (Rosemary) Leaf Extract, Tocopheryl Acetate, CI 77891 (Titanium Dioxide)
* Organic Camellia Japonica Seed Oil certified by BioSpectrum, Inc., Korea
Please be informed that THANN reserves the right to change or adjust the formulation for optimum result without prior notice. Please refer to the ingredient list on the product package you receive for the most up to date list of ingredients.
New to Thann?
We Focus On Your Total Wellness
For over 20 years, we provide remedies with aromatherapy and natural goodness for today's hectic lifestyle.
More than ever, our modern way of living creates mental and physical imbalances.
UV Exposure, Late Nights, Prolonged Stress and Processed Foods are some examples of how our body and mind can be negatively impacted.
Learn More
Check it Out
Monthly Promotions
Don't miss out on Thann's monthly promotion, featuring discounted prices on a select group of high-quality skincare and aromatherapy products. Sign up for their newsletter to stay up-to-date on the latest deals and special offers, and treat yourself to some luxurious products at a great price.
Learn More