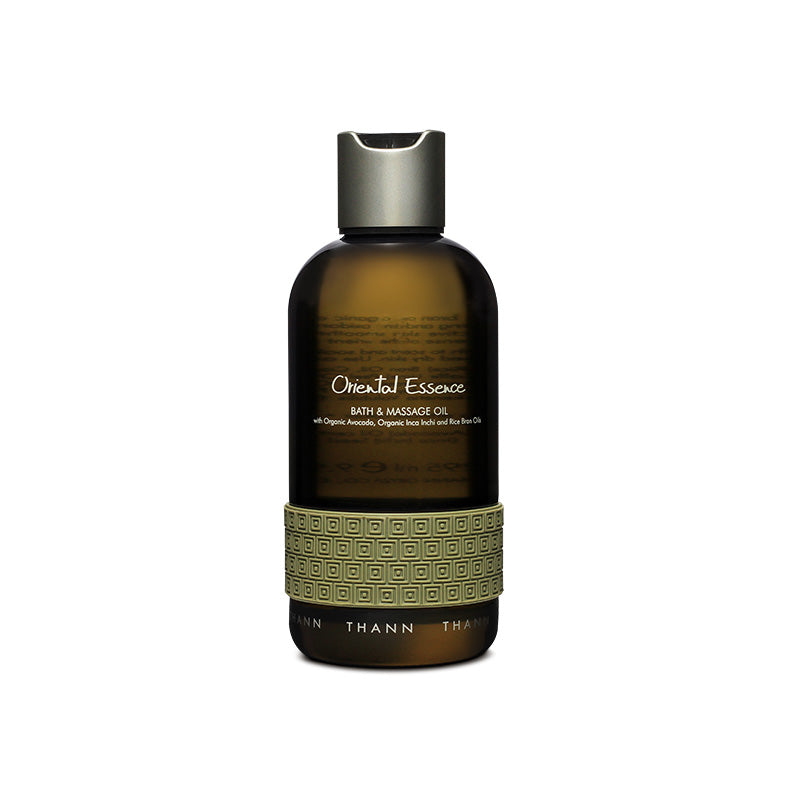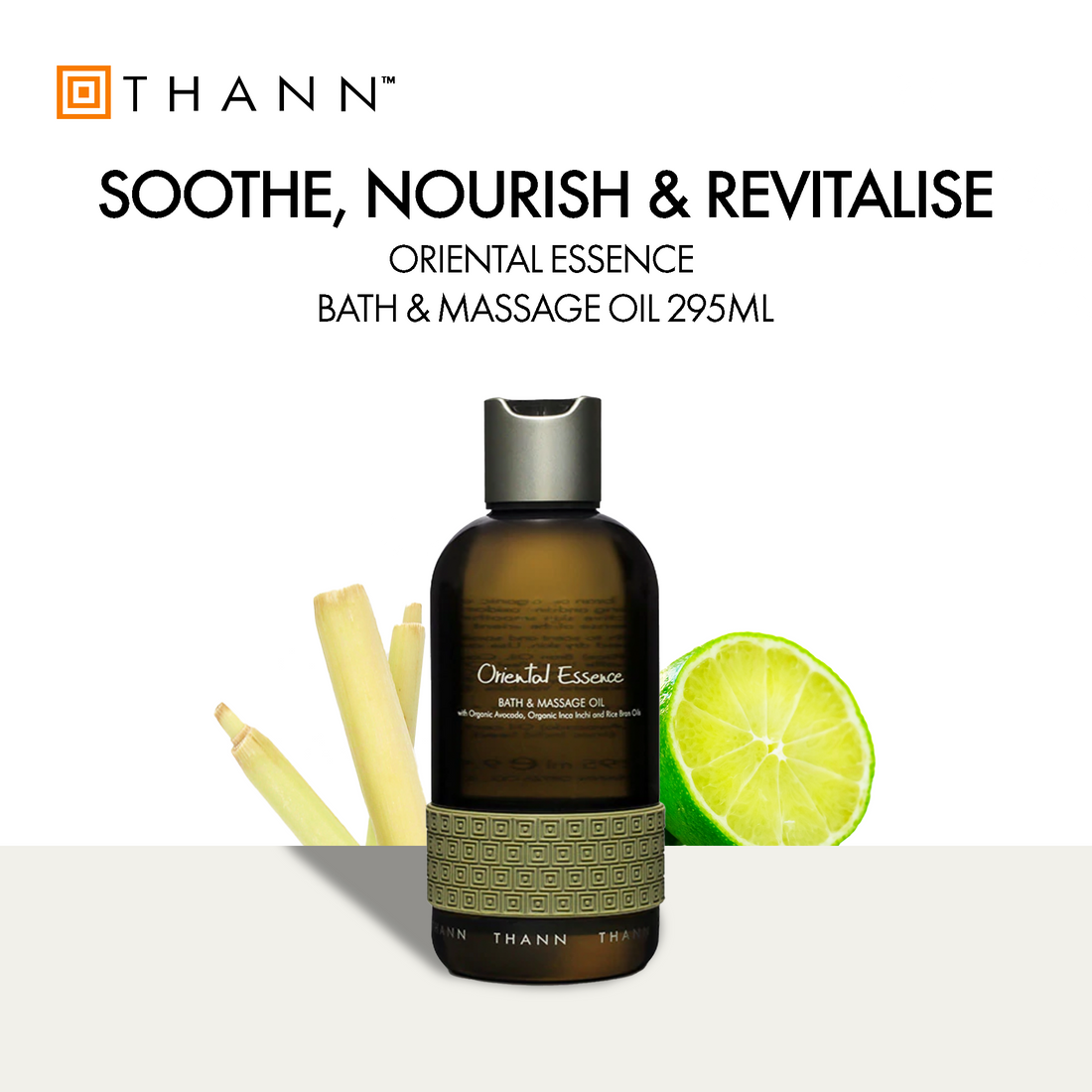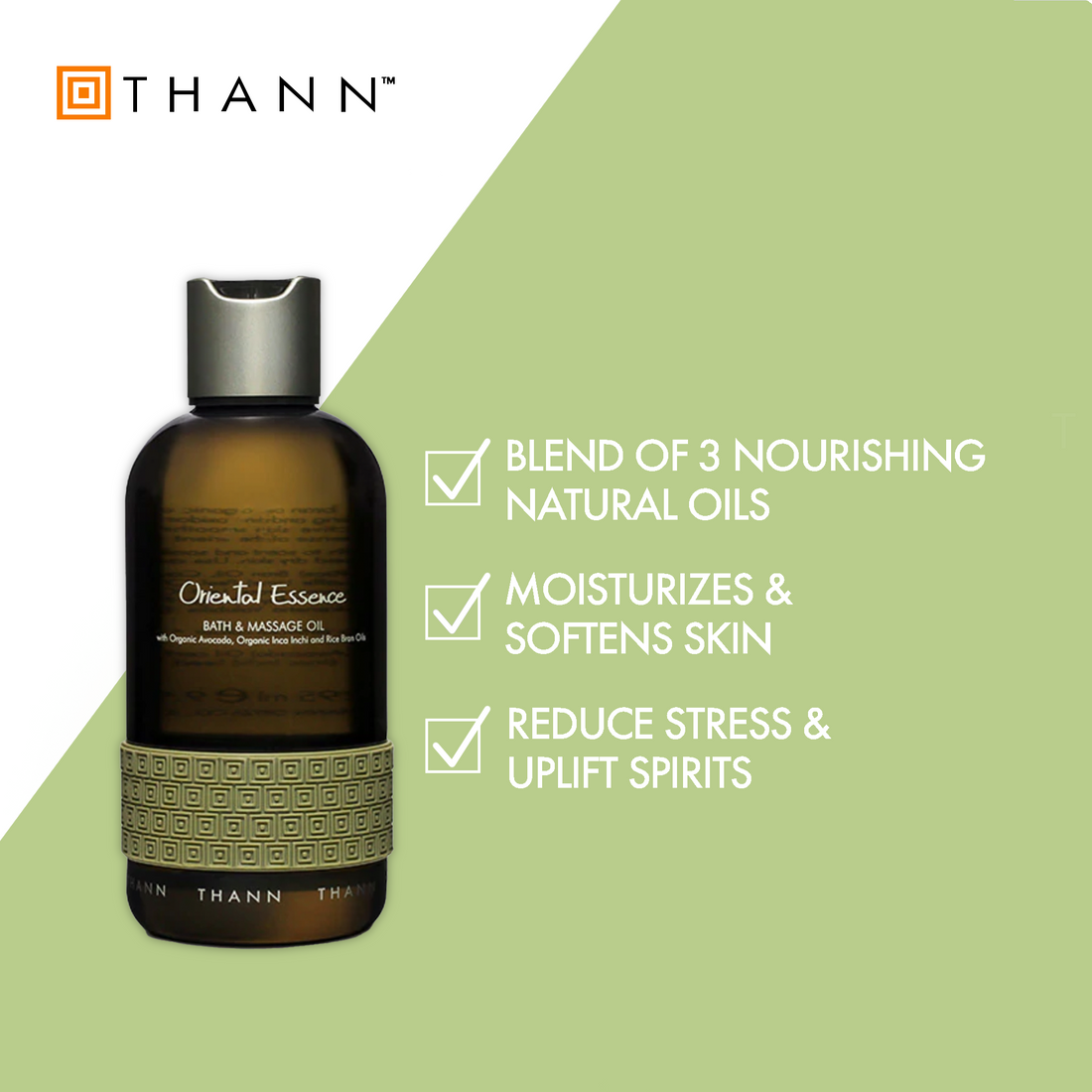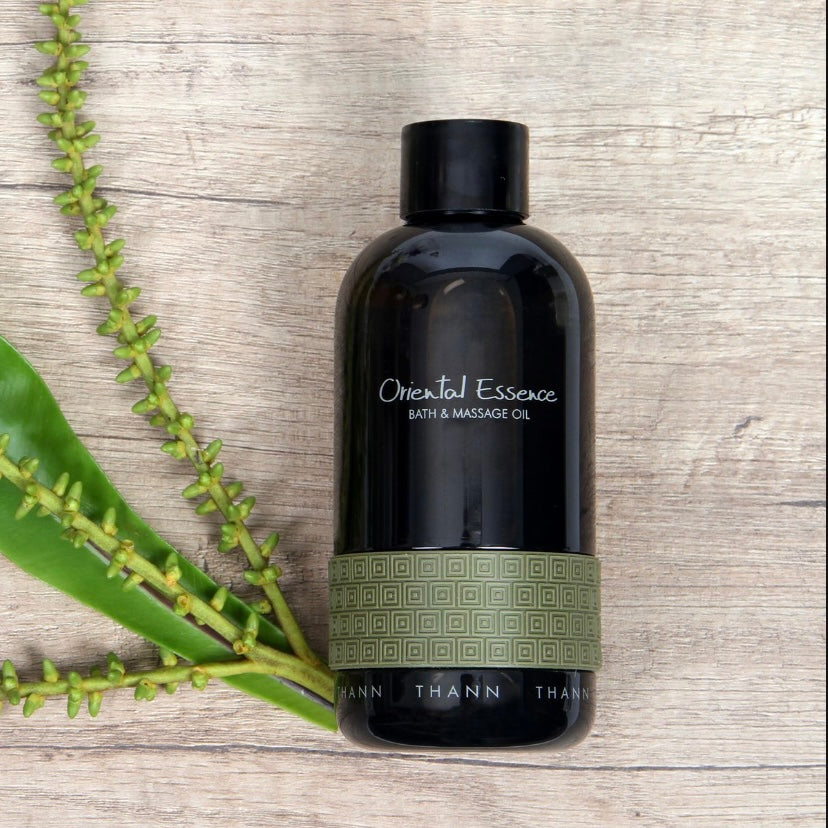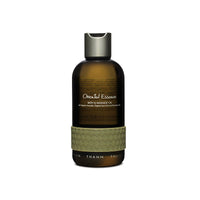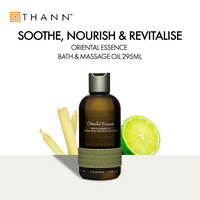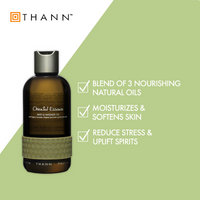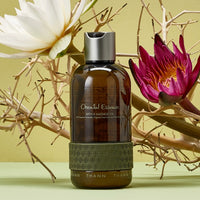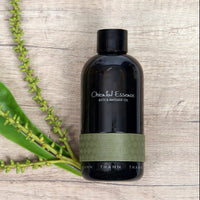 Oriental Essence Bath & Massage Oil 295ml
With Organic Avocado, Organic Inca Inchi and Rice Bran Oils.
Combines the benefits of rice bran oil and various plant essential oils. Add in the mix one of these beautiful natural bath & massage oils into your tub and you're all set for some spa-like, dedicated pampering. When massaged into the skin the oil helps relieve muscle aches and pains.
Key Ingredients:
Rice bran oil contains a high level of essential fatty acids and vitamin E which moisturize and soften skin.
Organic Avocado oil (certified by USDA, USA) is a source of antioxidants, minerals, and vitamins that help replenish dry skin, protect skin against skin damage and act as a natural sunblock.
Organic Inca Inchi oil (certified by Ecocert, France) contains high essential fatty acid and is an excellent emollient and moisturizes skin. It also helps restore your skin natural barrier and protect your skin from the harmful environment. 
The comforting scent from Lemongrass and Kaffir Lime essential oils purify the body and promote restful sleep.
No Artificial Color • No Artificial Fragrance • Paraben Free • Mineral Oil Free
Size: 295 ml / 9.97 fl.oz.
Main ingredients 
Testimonials
@李甜甜
最近总是特别容易疲惫
看到有人推荐这款按摩精油就买回来啦
香味淡淡的
很好吸收
用完之后皮肤变得软软的
接近三百毫升也很耐用
适合人群:各种类型肌肤,尤其是干性肌肤
@阳妹
入秋以后皮肤干燥就会蜕皮 觉得浑身痒
之前还真的去了医院.........其实就是皮肤干燥
这次飞韩国 赶紧盲买这瓶按摩精油,因为一直对thann家印象很好。 所以大胆盲选了这个柠檬草。
淡淡的香味 很滋润 却不油腻。 就连第二天洗澡也不会皮肤又变干。就是很持久。
如果你不需要很香的味道 那它真的非常合适了。 淡淡的,不呛鼻。
满分 真的太适合秋冬天了。 真的一点也不油腻!!!!滋润切持久!!!!!!
不像别的身体乳。一洗澡 就恢复原样。
推荐推荐!!!
这款按摩油一共有5种味道可选,官方建议用于泡澡或者SPA我是买来做油压的,一瓶295ml其实也用不了几次,所以我基本每次都是3-4瓶囤货。但一般泡澡或者洗澡按摩来用,这个量还是耐用的。配合按摩手法属于那种好吸收的精油,清洗也很方便。冬天也可涂抹少量代替身体乳,保湿滋润度很Nice。
• Dermatologically tested • Mineral oil free • Paraben free • No artificial colour and fragrance
INGREDIENTS
Oryza Sativa (Rice) Bran Oil, Caprylic/Capric Triglyceride, Olive Oil PEG-7 Esters, Citrus Hystrix (Kaffir Lime) Peel Oil, Cocos Nucifera (Coconut) Oil, Citral, Cymbopogon Citratus (Lemongrass) Leaf Oil, Limonene, Heptyl Undecylenate (Caster oil derived), Litsea Cubeba (May Chang) Fruit Oil, Tocopheryl Acetate, Persea Gratissima (Avocado) Oil, Plukenetia Volubilis (Inca Inchi) Seed Oil, BHT, Benzyl Alcohol, Tocopherol
*Organic Persea Gratissima (Avocado) Oil certified by USDA, USA
*Organic Plukenetia Volubilis (Inca Inchi) Seed Oil and Tocopherol certified by Ecocert, France
Please be informed that THANN reserves the right to change or adjust the formulation for optimum result without prior notice. Please refer to the ingredient list on the product package you receive for the most up to date list of ingredients.
NEW TO THANN?
We Focus On Your Total Wellness
For over 20 years, we provide remedies with aromatherapy and natural goodness for today's hectic lifestyle.
More than ever, our modern way of living creates mental and physical imbalances.
UV Exposure, Late Nights, Prolonged Stress and Processed Foods are some examples of how our body and mind can be negatively impacted.
Learn More
Check it Out
Monthly Promotions
Don't miss out on Thann's monthly promotion, featuring discounted prices on a select group of high-quality skincare and aromatherapy products. Sign up for their newsletter to stay up-to-date on the latest deals and special offers, and treat yourself to some luxurious products at a great price.
Learn More