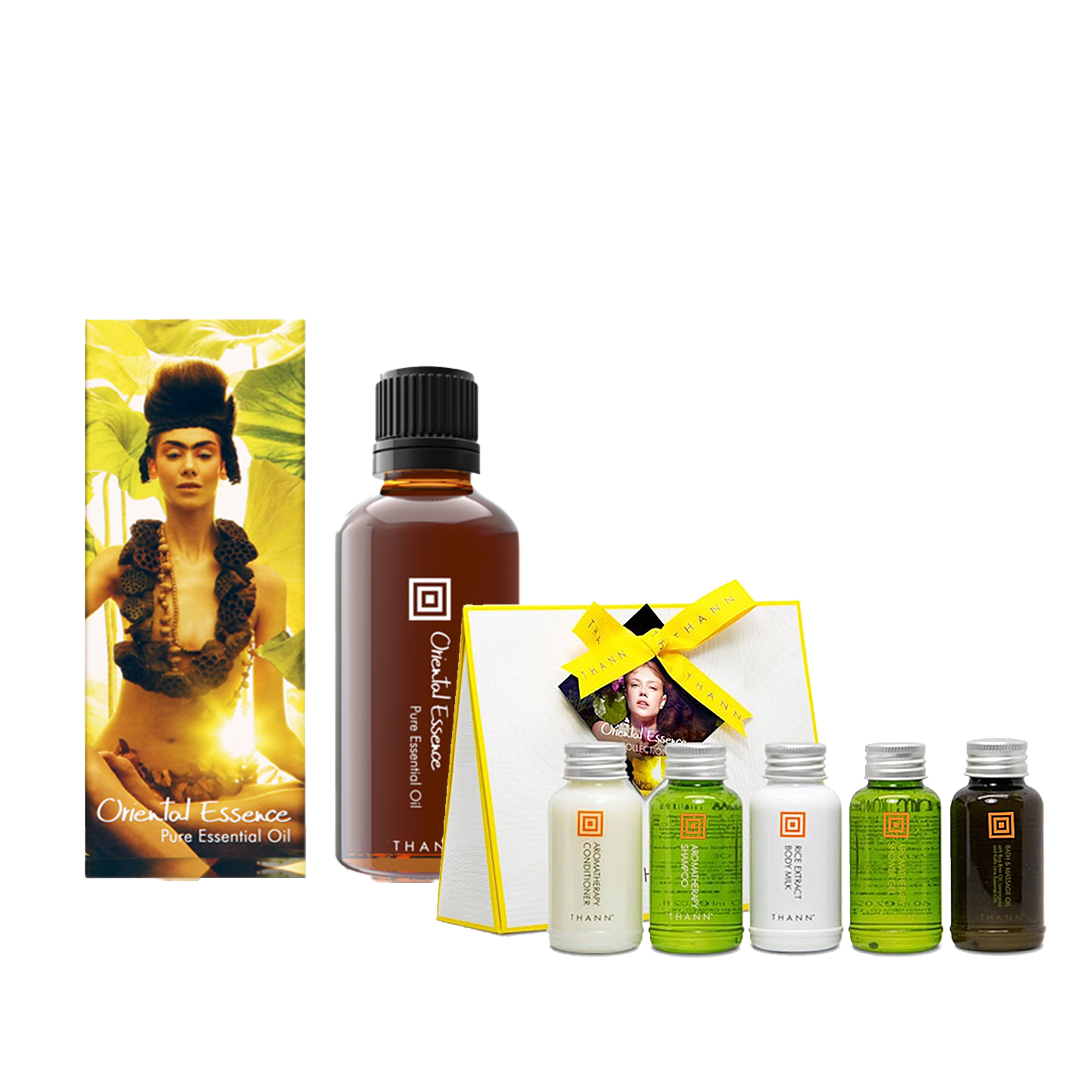 Oriental Essence Repel Set
Add a spa-like sensory experience with our Oriental Essence Essential Oil, a harmonious blend of the East's most cherished botanicals. This aromatic fusion seamlessly combines the invigorating essences of lemongrass and kaffir lime.
Key Ingredients & Benefits:
Lemongrass: Revered in traditional Asian households for its uplifting aroma, lemongrass doesn't just invigorate the senses; it acts as nature's guardian. Its inherent properties are known to deter bugs like mosquitoes and lizards, ensuring your moments of relaxation remain uninterrupted.

Kaffir Lime: A symbol of rejuvenation, kaffir lime not only offers a refreshing citrus burst but enhances the blend's potency, working in synergy with lemongrass to keep you feeling in a positive mood.
Unique Features:
Pure & Potent: THANN ensures the purity of the blend, with each drop promising undiluted efficacy and a scent that transports you to serene Asian landscapes.
Versatile Use: Perfect for diffusers or even as an aromatic spritz.
Reclaim your sanctuary and wrap yourself in an aura of calm, all the while knowing you're shielded by nature's very own guardians. Choose THANN's Oriental Essence - where tradition, tranquility, and protection meet.
Special set consisting of:
1) 50ml Oriental Essence Essential Oil
2) Oriental Essence 60ml Travel Set
NEW TO THANN?
We Focus On Your Total Wellness
For over 20 years, we provide remedies with aromatherapy and natural goodness for today's hectic lifestyle.
More than ever, our modern way of living creates mental and physical imbalances.
UV Exposure, Late Nights, Prolonged Stress and Processed Foods are some examples of how our body and mind can be negatively impacted.
Learn More
Check it Out
Monthly Promotions
Don't miss out on Thann's monthly promotion, featuring discounted prices on a select group of high-quality skincare and aromatherapy products. Sign up for their newsletter to stay up-to-date on the latest deals and special offers, and treat yourself to some luxurious products at a great price.
Learn More