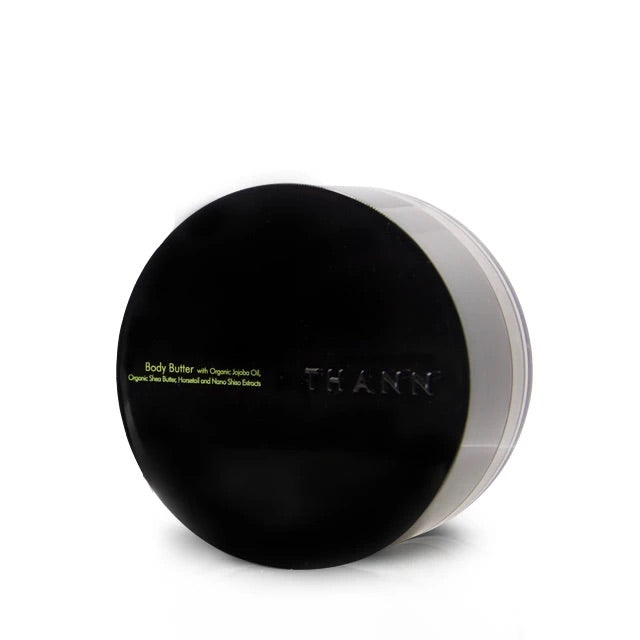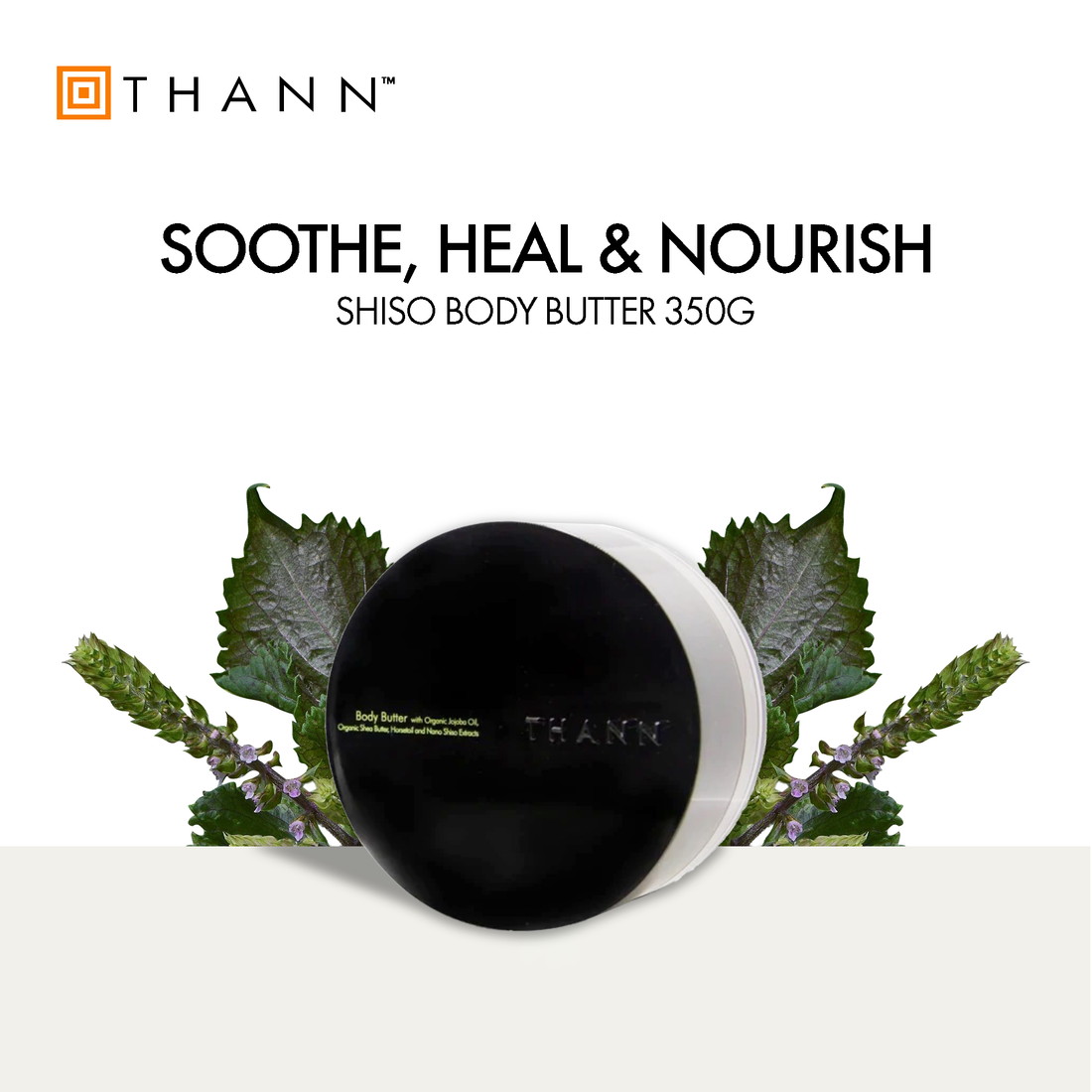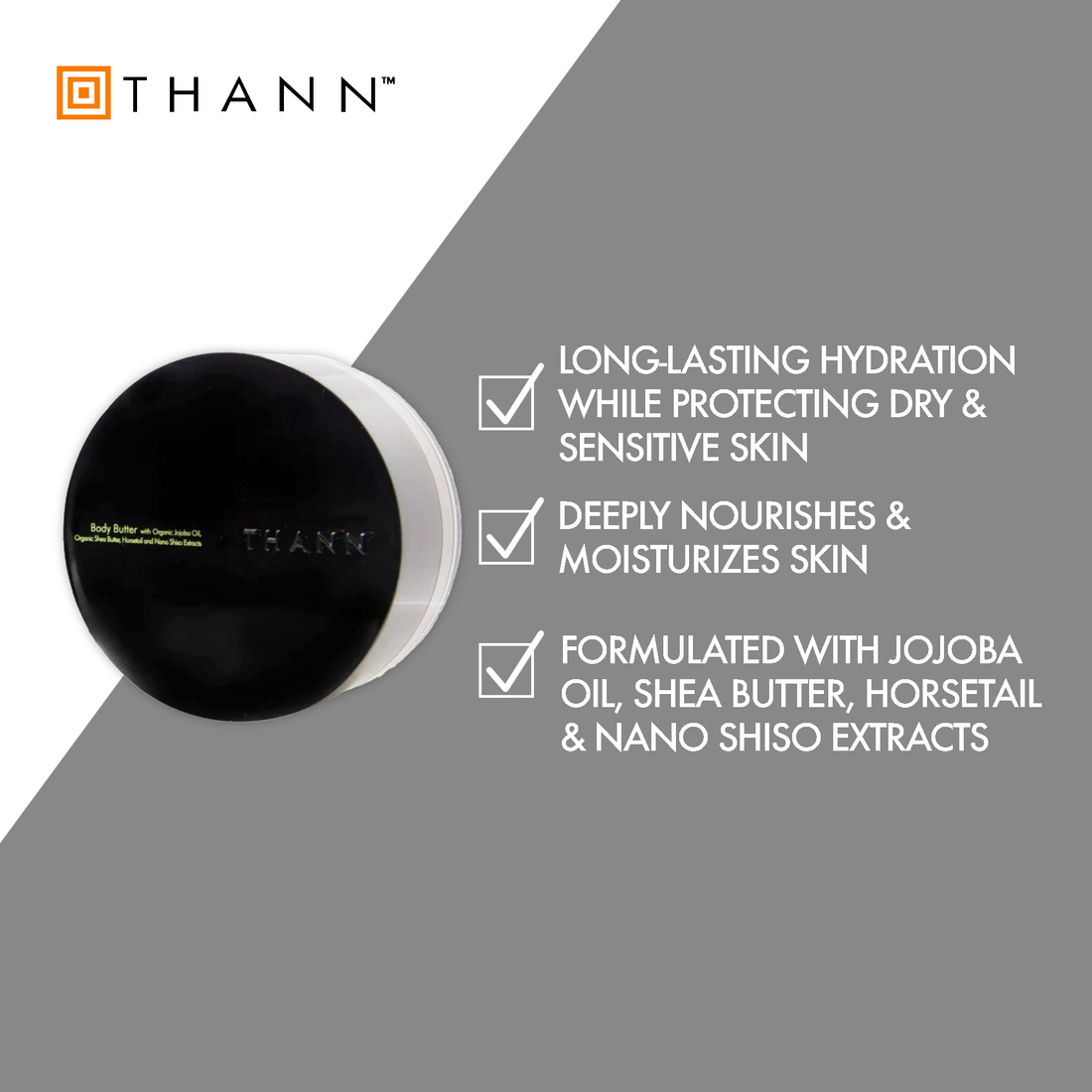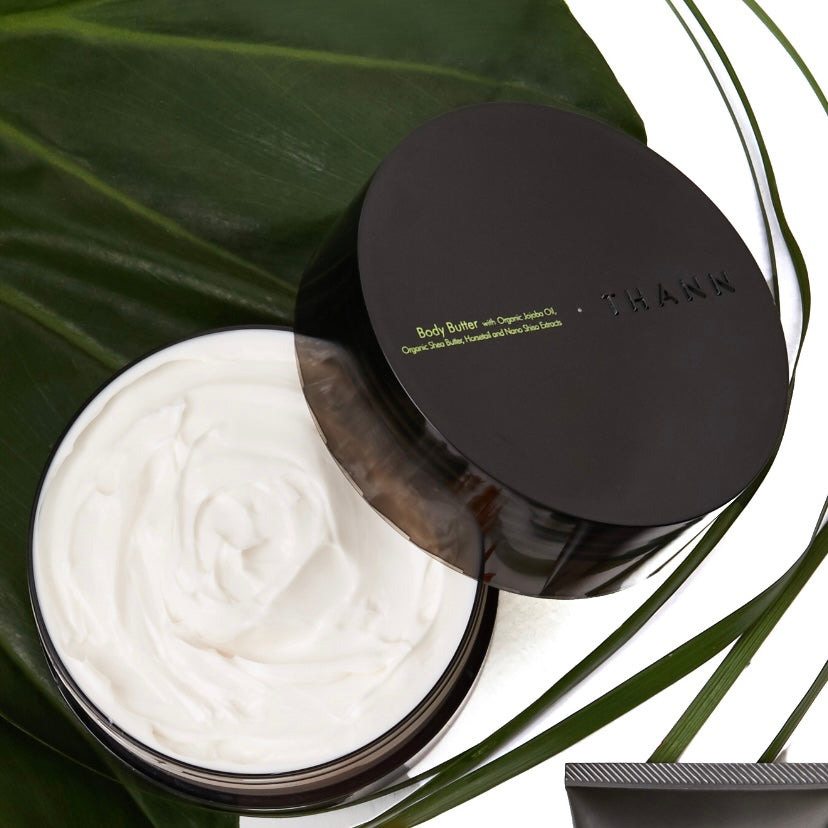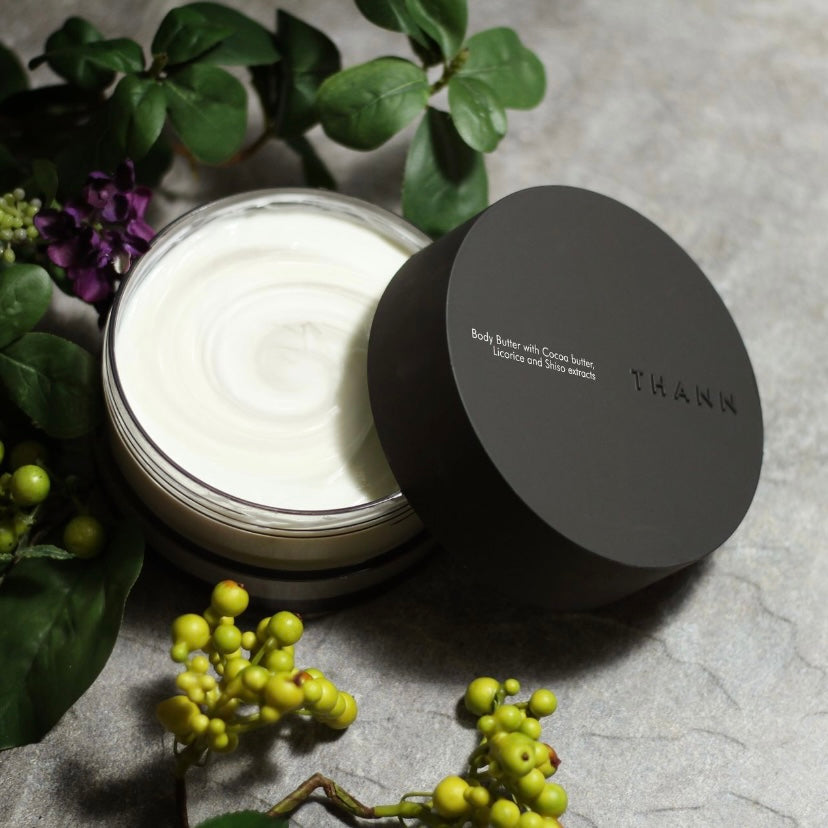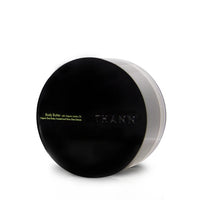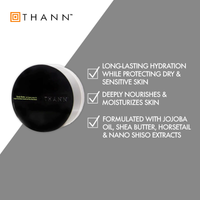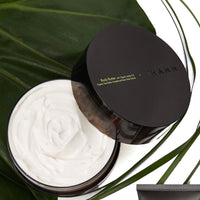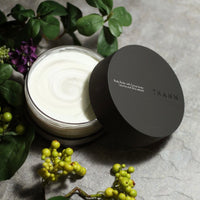 With Organic Jojoba Oil, Organic Shea Butter, Horsetail and Nano Shiso Extracts 
A concentrated body butter that deeply nourishes and deliver immediate, long-lasting hydration while protects dry and sensitive skin from free radical, harmful pollutants and UV rays.
Key Ingredients:
- Organic shea butter deeply moisturizes and nourishes the skin and helps protect skin against free radical.
- Rice bran oil, a light and non greasy moisturizing ingredient that hydrates and even out skin tones.
- Horsetail extract, a herbal remedy for centuries, helps purify skin, strengthens skin condition and fights radical damage.
- Bladderwack extract has anti-aging benefit and promotes elasticity in the skin while nourishes mature skin keep your skin well-moisturized.
- Butcher's broom extract is an extremely gentle ingredient and great for sensitive skin that helps reduce inflammation. 
- Kelp extract softens and hydrates skin and helps skin retain moisture. 
- Ivy extract smoothes and softens skin.
- Licorice root extract naturally soothes skin and gradually reveal a healthier-looking skin.
- Nano Shiso Extract contains a powerful antioxidant property and able nourishes and moisturizes the skin.
Dermatologically tested • Paraben free • Sulfate Free • Mineral oil free • No artificial color • Cruelty free
Efficacy Test:
91% of volunteers' presented an improvement of the brightening skin. (Chromametry measurement of twice daily use after 28 days)
23% of volunteers showed an increase in skin moisture level for 6 hours. (Corneometry measurement after a single product application tested result in 22 female volunteers by SpinControl Asia (France) Co., Ltd)
Size: 350 g / 12.34 oz. 
Winner of Harper's Bazaar Beauty Awards 2019 - Best Body Lotion 
Main ingredients
Efficacy test results 
*Chromametry measurement tested result in 22 female volunteers of twice daily use for 4 weeks by Spincontrol Asia Co., Ltd (France)
**Corneometry measurement tested result in 22 female volunteers after 6 hours from a single application by Spincontrol Asia Co., Ltd (France)
*** Tested result in 21 Asian female volunteers age between 37 – 58 years of twice daily use after 28 days by Dermscan Asia Co., Ltd
How to use 
Tone abdomen 
Firm thighs 

Tone legs 
Testimonials 
泰国牌子 现在一点都不小众了 之前朋友去泰国送过我一块这个牌子的皂 味道很独特 这次在上海嘉里中心看到专柜 入了这款当护手霜用 涂完之后有轻微油膜感 适合干皮 奶香味到棒棒的 会回购!
Thann紫苏身体乳
使用感:质地比乳液浓稠,但不厚重,很像希腊厚酸奶,涂后吸收很快,没有黏腻感。
味道:大调是轻奶香,夹杂着紫苏草味道,是我用过的身体乳里最喜欢的味道没有之一了。
本身我的皮肤有点鸡皮,来泰国后又忘记带乳液,这款本身只是尝试着买回来用用,可是用完决定无限回购,350g一大罐感觉可以用好几个月,好评!!
INGREDIENTS
Aqua (Water), * Butyrospermum Paraia (Shea) Butter, Oryza Sativa (Rice) Bran Oil, Glycerin, Cyclopentasiloxane, Caprylic / Capric Triglyceride, Isopropyl Myristate, Stearic Acid, Glyceryl Stearate, Stearyl Alcohol, PEG-100 Stearate, Parfum Amygdalus Dulcis (Sweet Almond) Oil, PEG-75 Stearate, PEG-20 Stearate, Dimethiconol, PEG-8 Beeswax, Phenyl Trimethicone, Ceteth-20, Steareth-20, Simmondsia Chinensis (Jojoba) Seed Oil, Triethanolamine, C12-15 Alkyl Benzoate, Chlorphenesin, Lecithin, Propylene Glycol, Sorbitol, Dimethicone Crosspolymer, Butylene Glycol, Caffeine, Xanthan Gum, Equisetum Arvense (Horsetail) Extract, Fucus Vesiculosus (Bladderwrack) Extract, Hedera Helix (Ivy) Extract,Lemonaria Digitata (Kelp) Extract, Ruscus Aculeatus (Butcher's Broom) Root Extract, Silybum Marianum (Milk Thistle) Extract, PPG-6-Decyltetradeceth-30, Perilla Ocymoides (Shiso) Leaf Extract, Glycyrrhiza Glaba Licorice) Root Extract, Cellulose Gum, Perilla Ocymoides (Shiso) Seed Extract, Sodium Bicarbonate, Platinum Powder
Please be informed that THANN reserves the right to change or adjust the formulation for optimum result without prior notice. Please refer to the ingredient list on the product package you receive for the most up to date list of ingredients.
New to Thann?
We Focus On Your Total Wellness
For over 20 years, we provide remedies with aromatherapy and natural goodness for today's hectic lifestyle.
More than ever, our modern way of living creates mental and physical imbalances.
UV Exposure, Late Nights, Prolonged Stress and Processed Foods are some examples of how our body and mind can be negatively impacted.
Learn More
Check it Out
Monthly Promotions
Don't miss out on Thann's monthly promotion, featuring discounted prices on a select group of high-quality skincare and aromatherapy products. Sign up for their newsletter to stay up-to-date on the latest deals and special offers, and treat yourself to some luxurious products at a great price.
Learn More