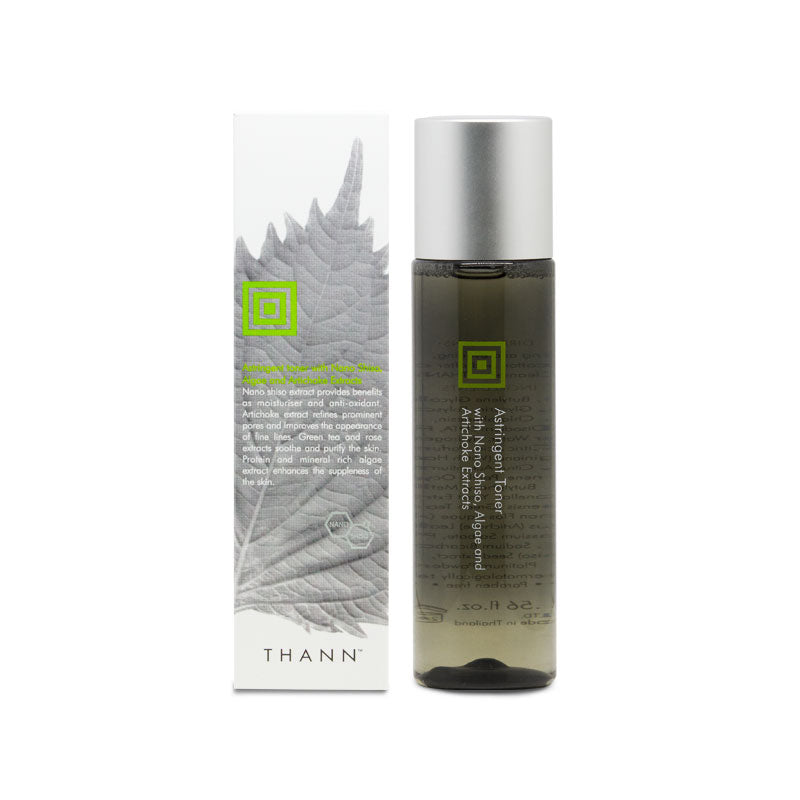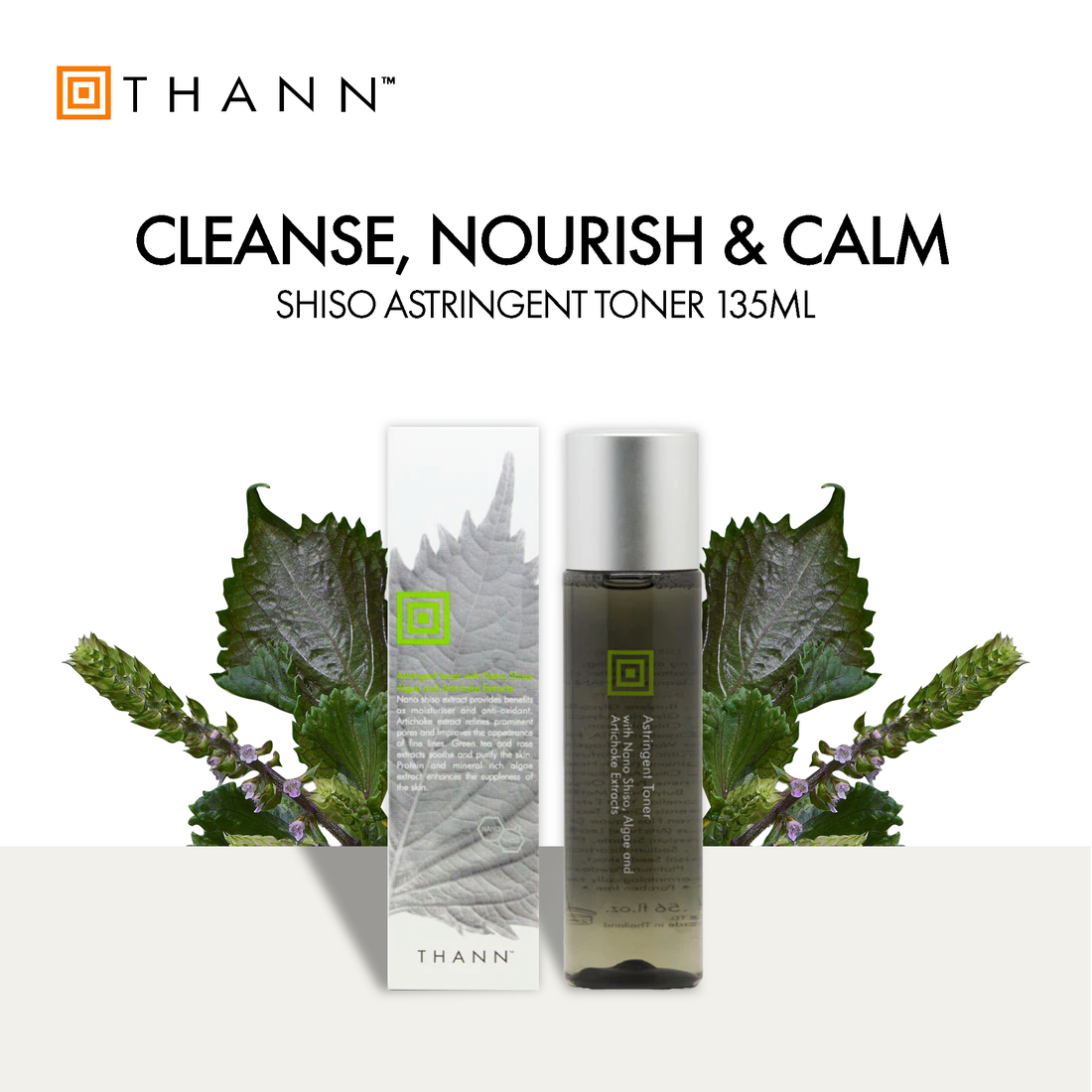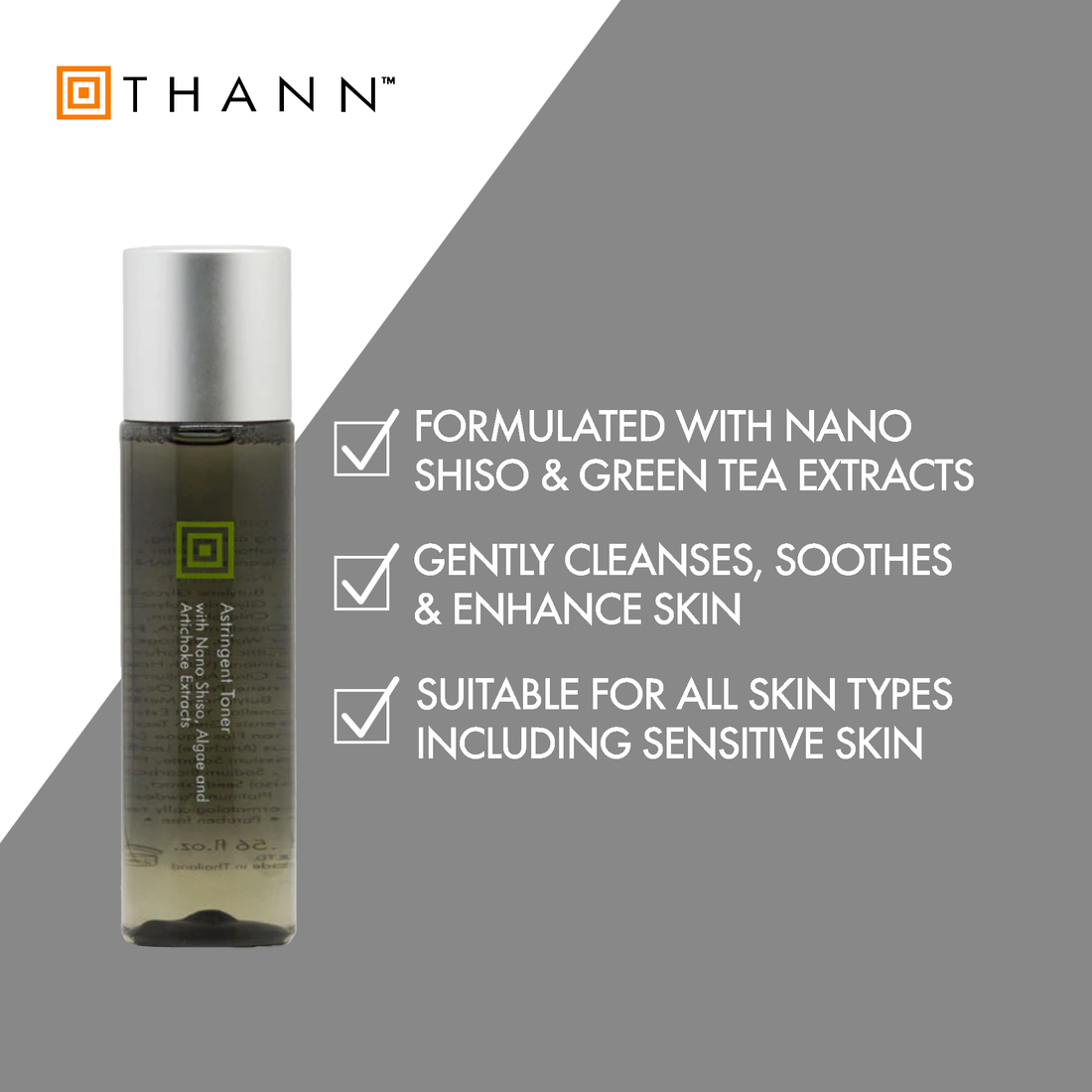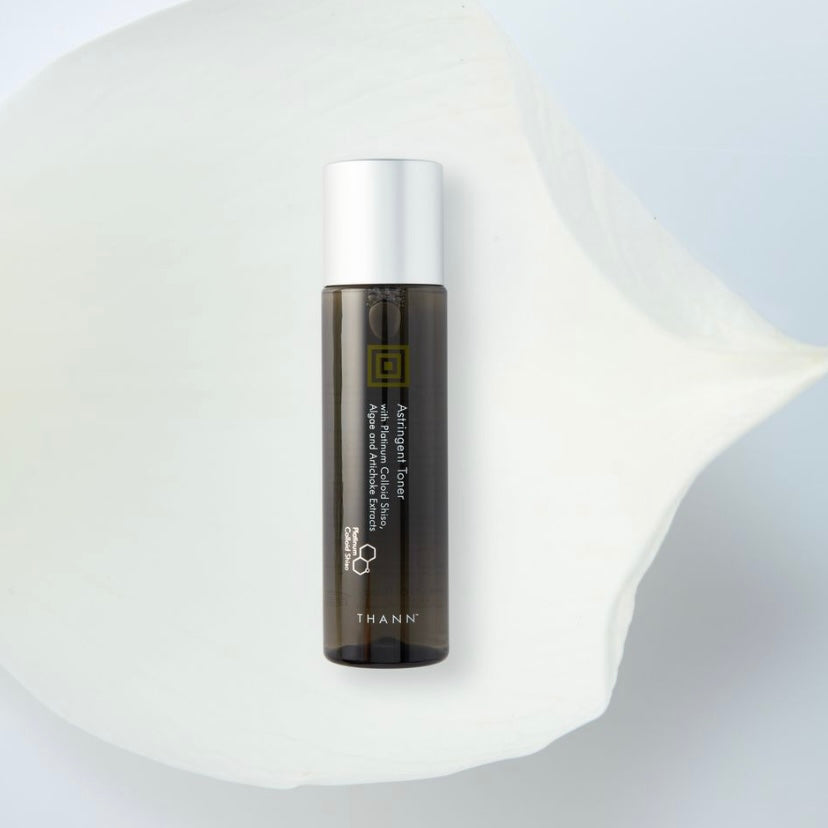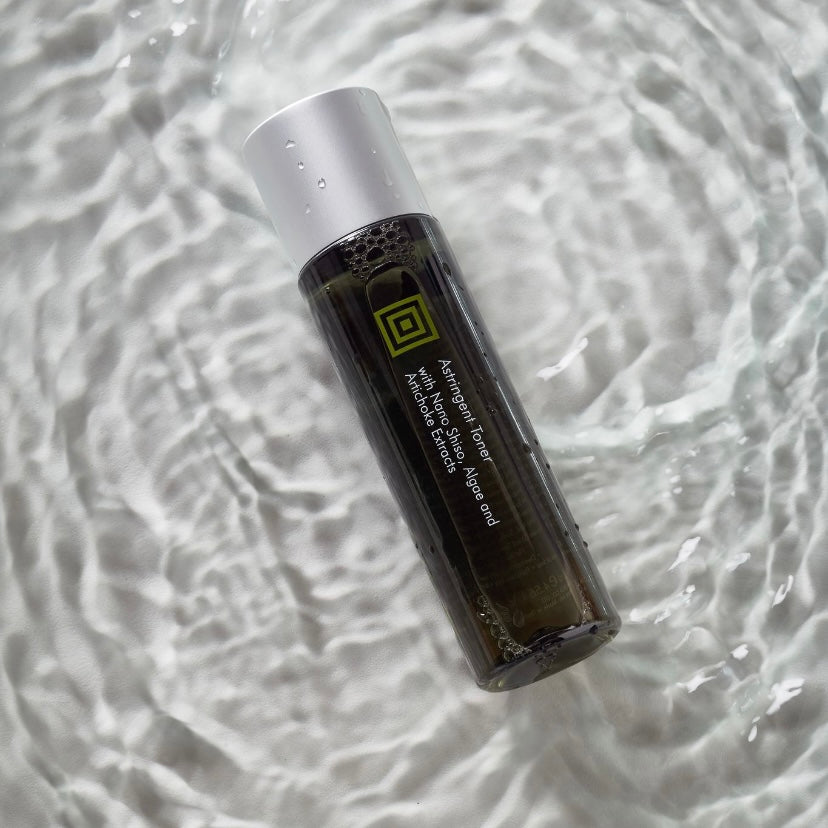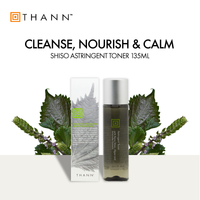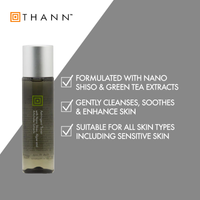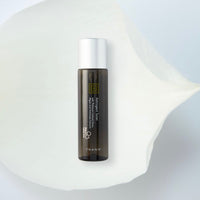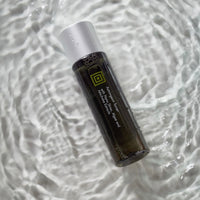 Shiso Astringent Toner 135ml
With Nano Shiso, Algae and Artichoke Extracts 
THANN Astringent Toner helps balance and nourish the complexion, refines and tightens pores while soothes and even out skin tone.
This toner is alcohol free and suitable for all skin types.
Key Ingredients:
- Green Tea Extract soothes and purifies the skin.
- Witch Hazel Extract, a natural astringent, helps remove bacteria, reduces pores and soothes your skin.
- Nano Shiso Extract, powerful antioxidant helps revive dull looking skin, nourish the skin, and smooth out skin texture while protecting the skin from free radical and prevent signs of aging.
- Algae Extract, a protein and mineral rich ingredient helps enhances the skin suppleness.
- Artichoke Extract is rich in antioxidants and Vitamin C, helps reduces pore size, strengthening skin condition by reinforcing cells from the inside, and prevents wrinkles.
- Yeast Extract helps strengthen skin structure and reduces skin redness.
- Rose Water provides a mild astringent effect that able to smoothen skin. Its relaxing odor also soothes mind while using.
Dermatologically Tested  • Paraben free • Alcohol free • Sulfate free • Mineral oil free • Silicone free • No Artificial Color
Size: 135 ml
Main ingredients
Testimonials 
Voila, Thann's Astringent Toner! I've never been a great believer in toners, having only used Clinique's toner for oily skin a couple times when I was still in high school, and as I didn't see any results, I wrote toners off as a gimmick and an extra useless step in my skincare.
I picked up Thann's toner WAY BACK in March during my Bangkok trip (damn you, 3 for 2 promotions!) and I am so grateful I did. The clear solution has a lovely scent (slightly herbal with floral hints) and leaves my skin feeling refreshed.

I noticed a huge difference-I suddenly had almost NO BREAKOUTS (albeit the occasional hormonal spot right before my period) and my complexion looked more even with less discolourations.

This toner is very gentle, which is great for my combination/normal skin but please note that my slightly oilier friend reported that she didn't really see any results with this product. Personally, I think that this extra step has a neutralizing and calming effect, combating the damage from harsh tap water.
含有紫苏萃等天然植物萃取精华,具有保湿以及收缩毛孔和提亮肤色的效果。
水的质地清澈,轻拍上脸后是非常清爽的感觉,不油不腻的很好吸收,很水,感觉不到一点油的成份,夏季用起来太舒服了,油皮妹子们也一定会喜欢。
thann的东西价格都在200-400rmb左右,洗面乳和爽肤水的味道真的让我念念不忘,洗完脸感觉刚做完了一个芳香spa,真的好香!我是混合皮,感觉秋季用会有点干了,夏季用会更好~
迷恋Thann家的紫苏爽肤水有一年多了
先说说我的肤质情况:
肤色偏白,混合偏干(也可以说是干皮),缺水时会脱皮,脸颊有红血丝。不可以用营养太高的产品,否则会痒会长油脂粒痘痘
一年前风很大的某牌子紫苏爽肤水,看了成分和功效,并不适合我。直到我遇到了Thann家的爽肤水,简直就是我专属的本命水
在我的护肤理念里,爽肤水是充当一个二次清洁+基础补水的角色。不要把它当成一步到位的神器,还指意它有各种强大的功效!
清爽、舒服、好吸收、不油腻就是我一直选择Thann的理由!味道很舒心,很清新的植物味道。
这款爽肤水含有紫苏萃等天然植物萃取精华,有保湿、收缩毛孔、提亮肤色的功效。
质地很清澈,流动性很好,上脸后就是清爽的感觉!一年四季用也没问题,我觉得适合任何肤质‼️
偶尔不想敷面膜的时候,我还会用来做水膜,倒在化妆棉上,湿敷15分钟,渗透力很不错。
我都在Thann旗舰店买的,看我的空瓶记就知道我用了多少瓶了有时候旗舰店会搞活动或者送小样,很划算一直很想去泰国专柜买买买,由于现在疫情,还是搁后吧…它家的清洁泥面膜和防晒霜都很好用,有机会再发推荐
• Dermatologically tested • Paraben free • No artificial colour
INGREDIENTS
Aqua (Water), Butylene Glycol, Hamamelis Virginiana (Witch Hazel) Flower Water, Phenoxyethanol, Perilla Ocymoides (Shiso) Leaf Extract, Sodium Citrate, Polysorbate 20 (Palm derived), Rosa Damascena (Rose) Flower Water, Chlorphenesin, Disodium EDTA, Algae Extract, Yeast Extract, Camellia Sinensis (Green Tea) Leaf Extract, Parfum (Fragrance), Citrus Aurantium Dulcis (Orange) Oil, Citric Acid (Plant derived)
Please be informed that THANN reserves the right to change or adjust the formulation for optimum result without prior notice. Please refer to the ingredient list on the product package you receive for the most up to date list of ingredients.
New to Thann?
We Focus On Your Total Wellness
For over 20 years, we provide remedies with aromatherapy and natural goodness for today's hectic lifestyle.
More than ever, our modern way of living creates mental and physical imbalances.
UV Exposure, Late Nights, Prolonged Stress and Processed Foods are some examples of how our body and mind can be negatively impacted.
Learn More
Check it Out
Monthly Promotions
Don't miss out on Thann's monthly promotion, featuring discounted prices on a select group of high-quality skincare and aromatherapy products. Sign up for their newsletter to stay up-to-date on the latest deals and special offers, and treat yourself to some luxurious products at a great price.
Learn More