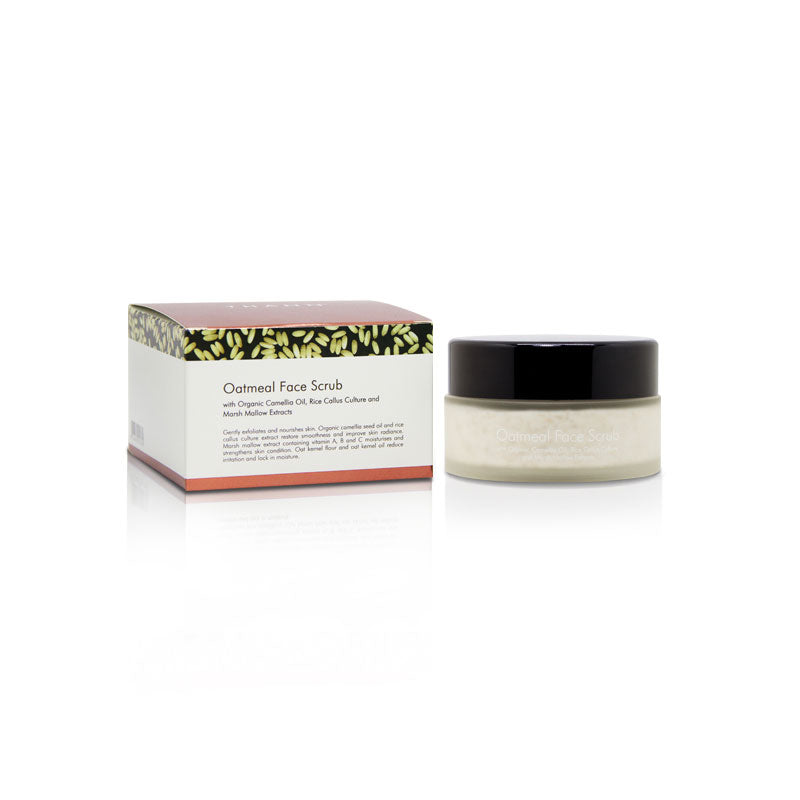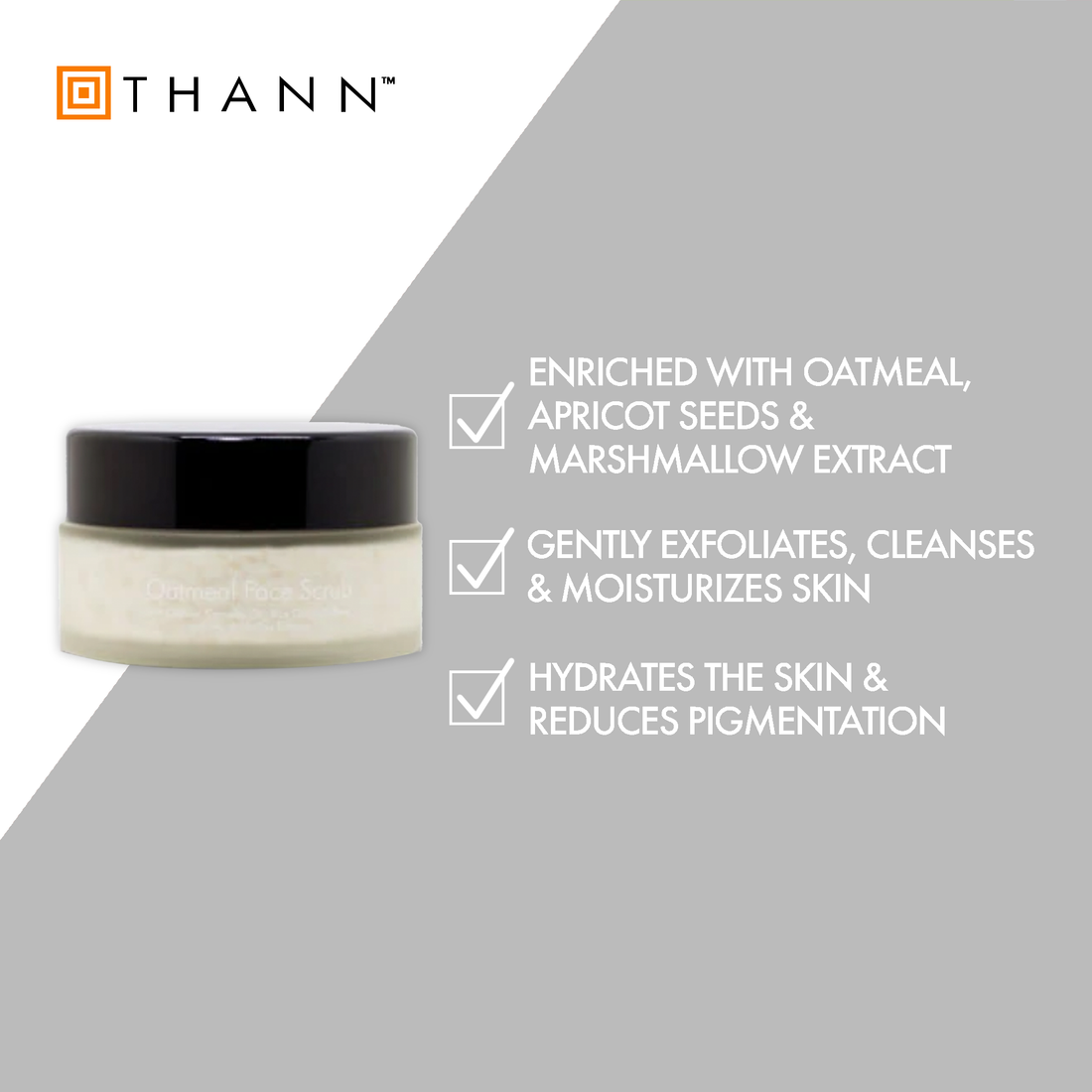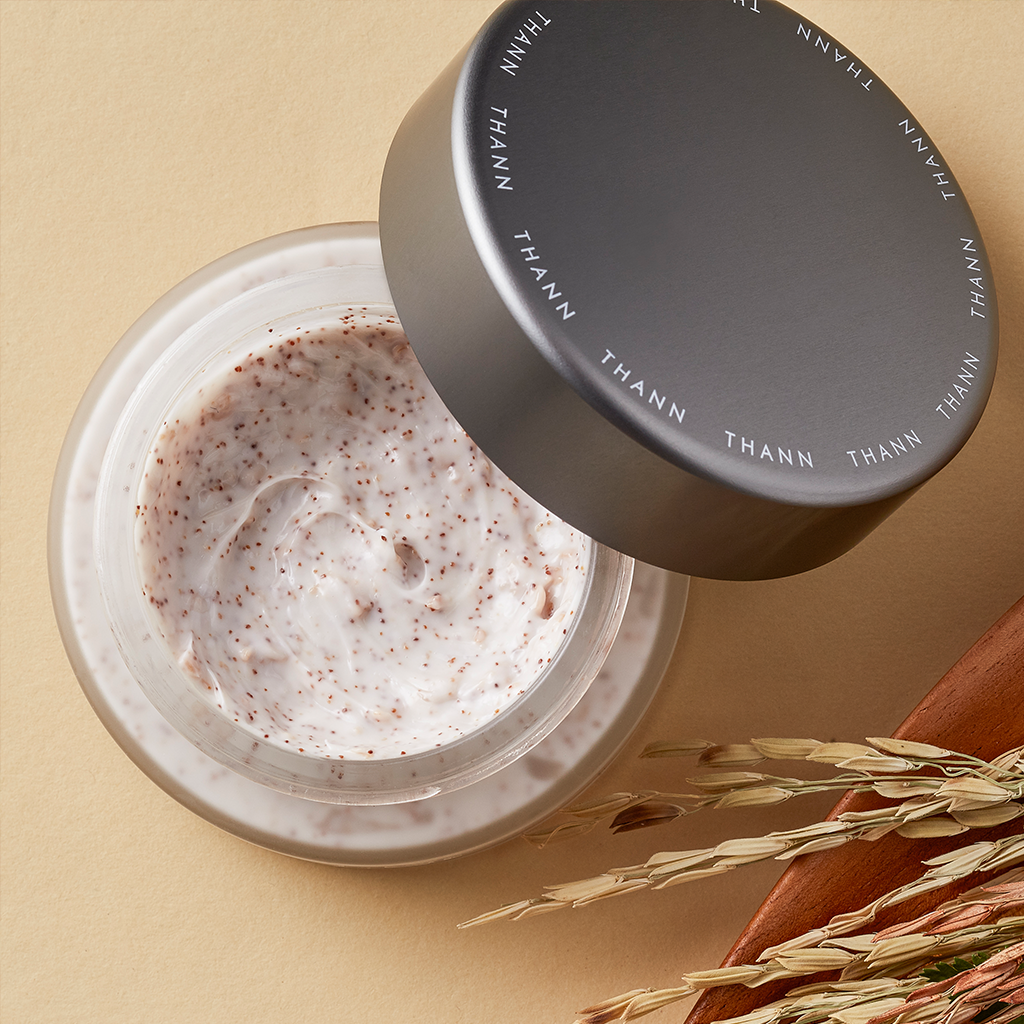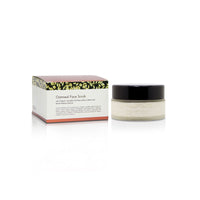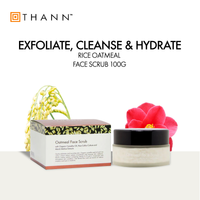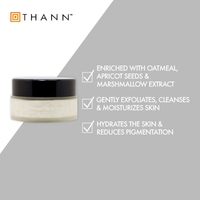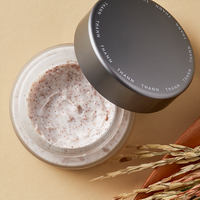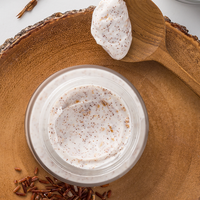 Rice Oatmeal Face Scrub 100g
With Organic Camellia Oil, Rice Callus Culture, and Marshmallow Extract 
THANN Oatmeal Face Scrub gently exfoliate your skin without drying it out with the natural micro-beads scrub from Oatmeal and Apricot seeds that help remove dead skin cells and impurities from your skin and pores. Hydrate, smooth, and improve your skin texture, leaving your skin soft with a healthy, glowing complexion.
Key Ingredients:
- Centella Asiatica Leaf Extract contains potent antioxidants, Vitamin A, B, and C that help hydrate, soothe, and even complexion.
- Marshmallow Extract soothes and softens skin.
- Organic Camellia Oil (certified by USDA, USA) is a rich source of essential fatty acids and antioxidants, as well as an excellent emollient that keeps skin soft and supple.
- Organic Coconut Oil (certified by USDA, USA) is an excellent moisturizer and has a natural anti-bacterial property. 
No Artificial Color • Paraben Free • Mineral Oil Free • Cruelty-Free • Dermatologically tested
Size: 100 g / 3.5 oz.
Main Ingredients 
Reinvigorates & restores skin 
Testimonials 
@mMs
THANN庭润美颜去角质霜
产地:泰国🇹🇭
燕麦精华及天然米糠油有滋养作用。药蜀葵精华蕴含维他命A,B及C,能為肌肤保湿及提升肌肤质素。积雪草精华有镇静紓缓肌肤的功效。
使用皮肤不干燥❤️
滋润、不紧绷。
使用方法:清洁脸部后将去角质膏以打圈的方式轻柔按摩脸部,在脸上停留10~15分钟后,用清水洗净。避免接触到眼部和唇部。注意不要太频繁使用哦,2周到4周用一次就可以了,因为皮肤的新陈代谢是28天一个周期。
• Dermatologically tested • Paraben free • Mineral oil free • No artificial colour
INGREDIENTS
Aqua (Water), Glycerin, Ethylhexyl Palmitate, Cetearyl Alcohol, Avena Sativa (Oat) Kernel Meal, C12-15 Alkyl Benzoate, Dimethicone, Octyldodecanol, Oryza Sativa (Rice) Bran Oil, Prunus Armeniaca (Apricot) Seed Powder, Cyclopentasiloxane, Stearyl Alcohol, Glyceryl Stearate, Palmitic Acid, Ethylhexylglycerin, Stearic Acid, Ceteth-10 Phosphate, Dicetyl Phosphate, PEG-100 Stearate, Parfum (Fragrance), Dimethiconol, Caprylyl Glycol, Citrus Aurantium Dulcis (Orange) Oil, Xanthan Gum, Potassium Hydroxide, Disodium EDTA, Hexyl Cinnamal, Althaea Officinalis (Marsh Mallow) Root Extract, Tocopheryl Acetate, Limonene, Butylphenyl Methylpropional, Linalool, Citronellol, Alcohol, Propylene Glycol, Myristic Acid, Geraniol, Centella Asiatica Leaf Extract, Lauric Acid, Methylisothiazolinone, BHT, Tocopherol
Please be informed that THANN reserves the right to change or adjust the formulation for optimum result without prior notice. Please refer to the ingredient list on the product package you receive for the most up to date list of ingredients.
NEW TO THANN?
We Focus On Your Total Wellness
For over 20 years, we provide remedies with aromatherapy and natural goodness for today's hectic lifestyle.
More than ever, our modern way of living creates mental and physical imbalances.
UV Exposure, Late Nights, Prolonged Stress and Processed Foods are some examples of how our body and mind can be negatively impacted.
Learn More
Check it Out
Monthly Promotions
Don't miss out on Thann's monthly promotion, featuring discounted prices on a select group of high-quality skincare and aromatherapy products. Sign up for their newsletter to stay up-to-date on the latest deals and special offers, and treat yourself to some luxurious products at a great price.
Learn More