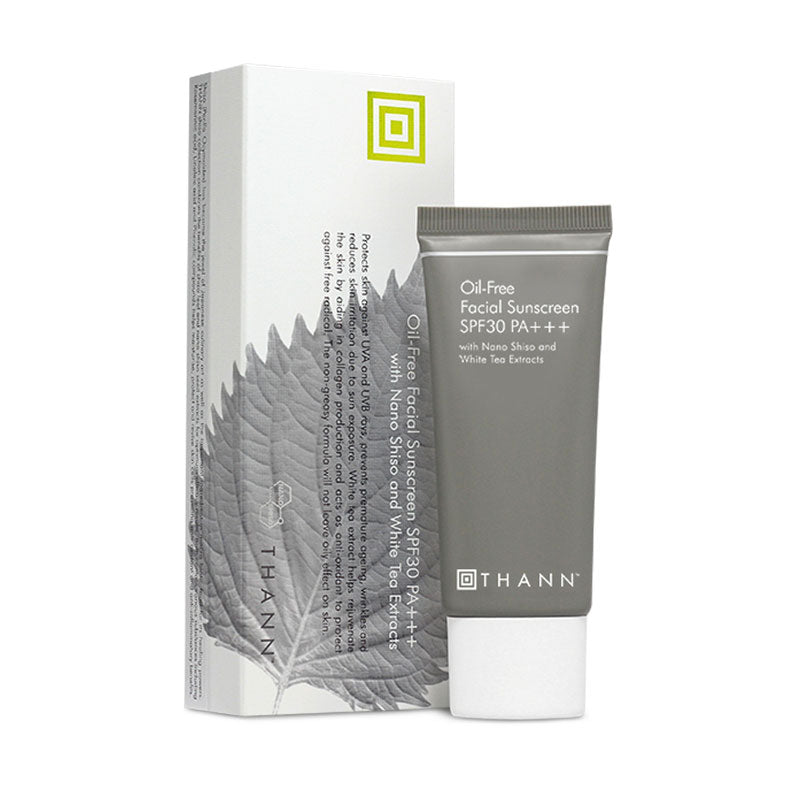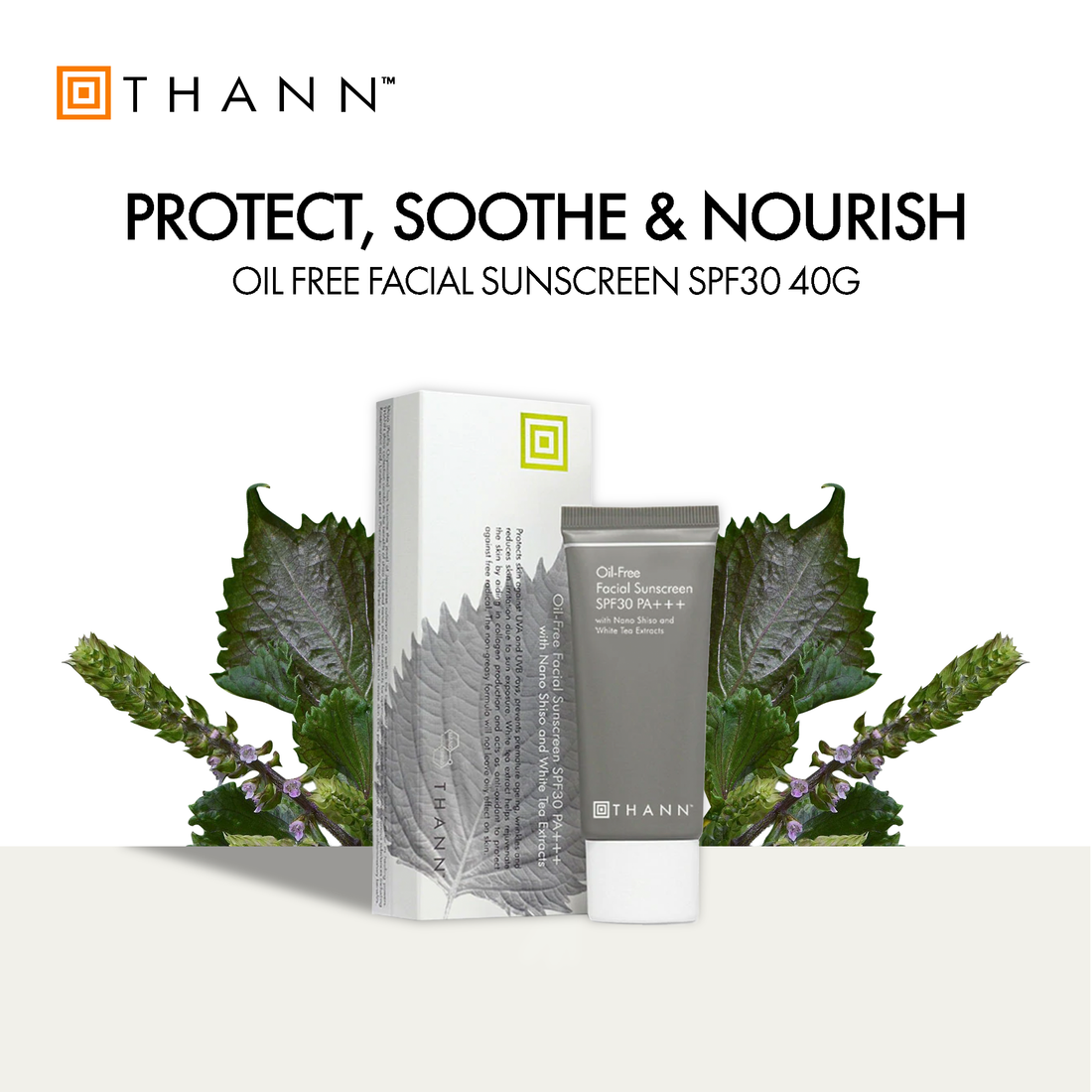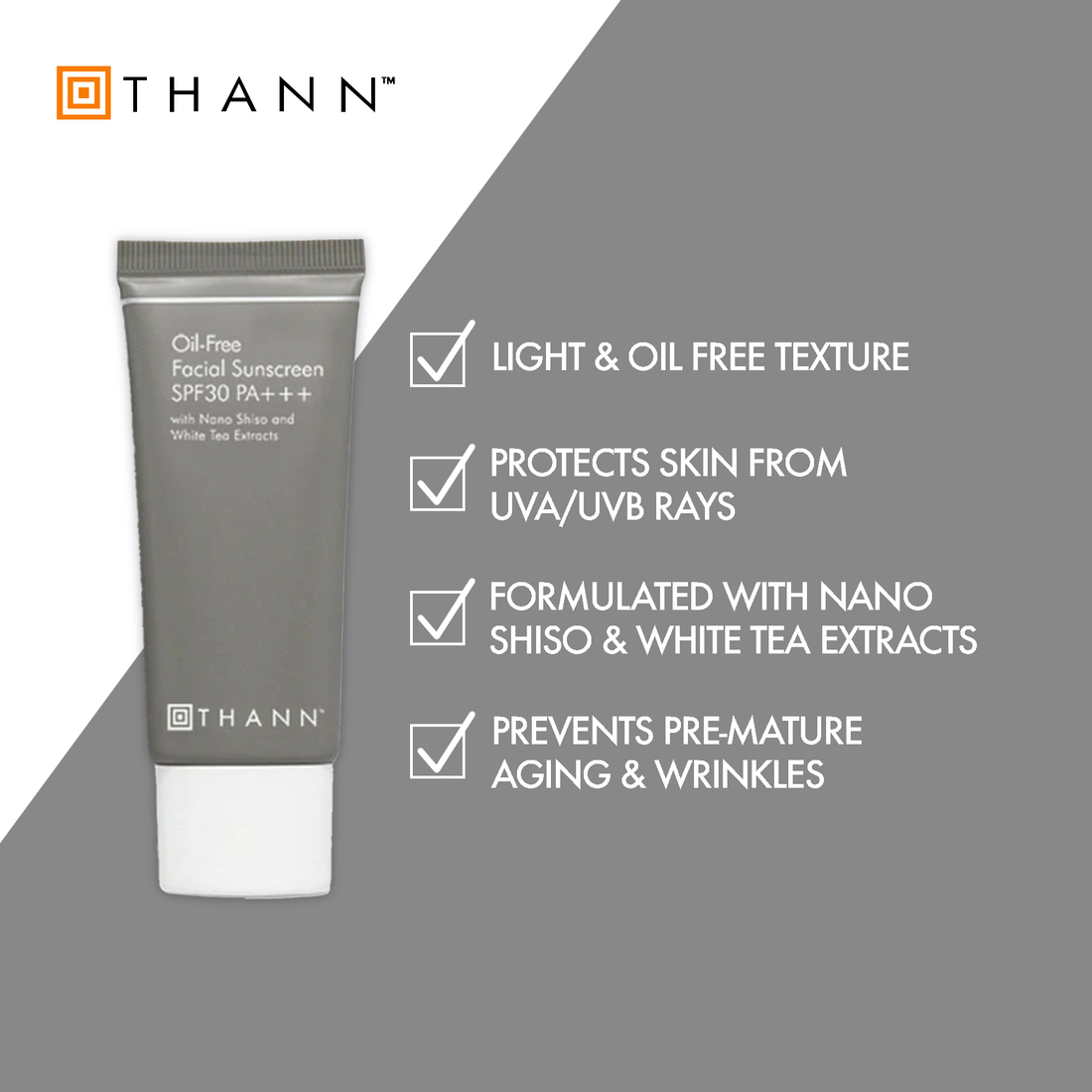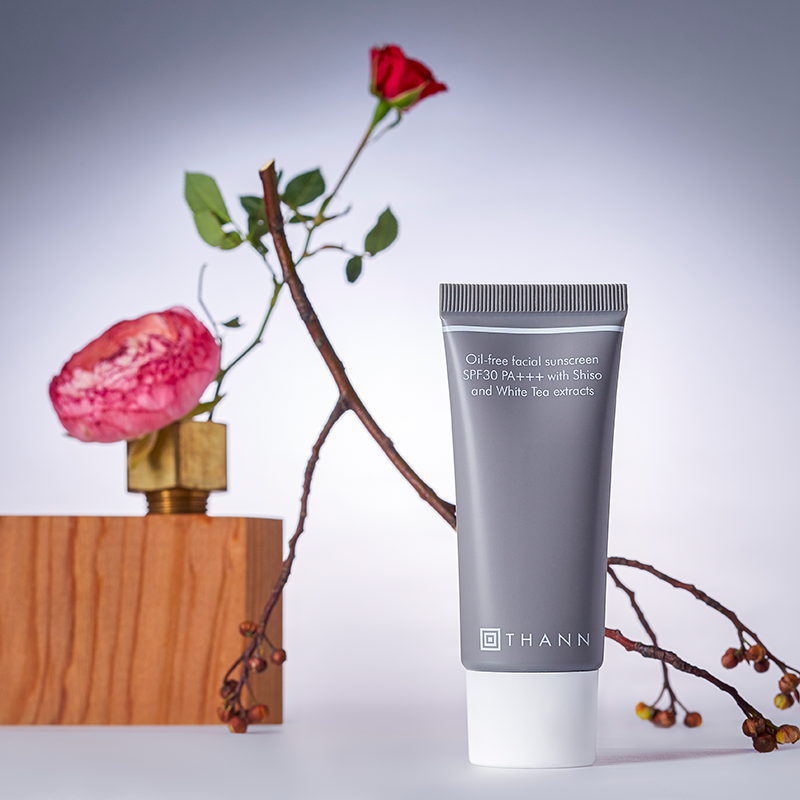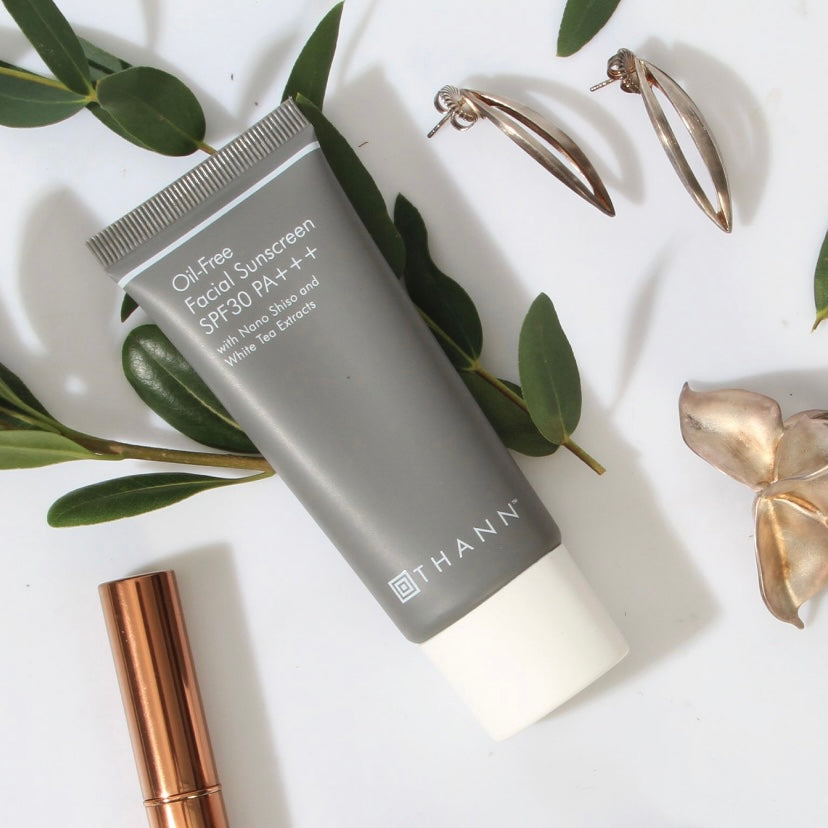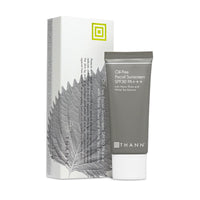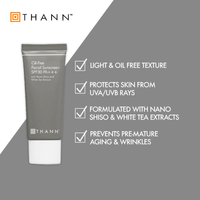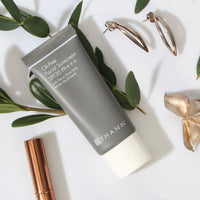 Oil Free Facial Sunscreen Spf30 40g
Our internationally renowned, award winning best seller protects skin against UVA and UVB rays, prevents premature aging, wrinkles, and reduces skin irritation due to sun exposure, white tea extract rich in Polyphenols acts as an anti-oxidant to protect against free radical. The non-greasy formula will not leave oily effect on skin. Gentle on skin.
Excellent for daily use
Efficacy Test Results
*Cutaneous measurement tested result in 22 female volunteers of once daily use on the whole face over 42 days by Dermscan Asia Co.,Ltd • Dermatologically tested • No artificial colour • Paraben free • Mineral oil free
Testimonials 
马上又要到夏季了,你准备好防晒霜了吗?thann紫苏防晒霜是非常好用的一款防晒产品,很受欢迎的哦!
记得去年这支防晒霜很火,泰国特产,我是在韩国拔草的,最近一直在用。
SPF30/PA+++也算是高倍防晒了,日常防护没问题,40g的容量比较小支,适合随身携带。
白色乳液质地,延展性很好。很容易推开,涂在脸上吸收很快,不拔干。没有润色效果,不会泛白,挺棒的!
无油配方,涂抹以后满清爽的,泰国人常年生活在热带,高温高湿肯定不喜欢油腻。混合皮的我也表示很满意!
总体来说这款防晒乳属于水润型,但没有很轻薄。我个人感觉更适合春秋冬三季使用!
会回购!
不知道什么时候开始它就红了,免税店全面断货的节奏。防晒指数不高,无香味,无油配方,乳霜质地,像擦了面霜,易推、滋润度相当好,有保湿效果,无任何遮瑕效果,强烈推荐。
下面正题今天要给大家讲的是Thann紫苏防晒,我的天啊!真的好好用啊啊啊!一定要听我这波安利!!!用好了他,防晒真的很简单!!!
首先他的质地是那种乳液质地挤出来味道淡淡的香味,闻着就很舒服,而且还是无油配方。清爽水润、无黏腻感、还非常容易推开。涂到脸上迅速成膜、轻薄透气,不油腻。带有一定的美白提亮效果
这个美白的力度我特别适合我们男生哈哈哈,因为超级超级自然哩,我是干皮用它会觉得超级保湿,然后上次给一个油皮同学使用过,他都说感觉一天脸上都不油腻了所以油皮用它应该会有控油的效果吧哈哈哈哈。
推荐No.1 紫苏防晒。先让我祈祷别断货!紫苏系列是她家明星产品了,紫苏防晒不泛白不油腻,spf30一般的艳阳天够用,关键是好用程度秒杀之前一直用的安耐晒和cpb,去年开始就一直在用,当然价格也不高,两百出头一管,真是相见恨晚!!!
INGREDIENTS
Aqua (Water), Cyclopentasiloxane, Ethylhexyl Methoxycinnamate, Propylene Glycol, Isononyl Isononanoate, C12-15 Alkyl Benzoate, Titanium Dioxide, Diethylamino Hydroxybenzoyl Hexyl Benzoate, Disteardimonium Hectorite, Butylene Glycol, Ethylene/Acrylic Acid Copolymer, PEG/PPG-19/19 Dimethicone, VP/Hexadecene Copolymer, Aluminum Starch Octenylsuccinate, Phenoxyethanol, Dimethicone Crosspolymer, Polyhydroxystearic Acid, Alumina, Sodium Chloride, Caprylyl Glycol, Aluminum Tristearate, Chlorphenesin, Parfum (Fragrance), Disodium EDTA, Tocopheryl Acetate, Citrus Aurantium Dulcis (Orange) Peel Extract, Limonene, Aloe Barbadensis (Aloe Vera) Leaf Juice, Maltodextrin, Hexyl Cinnamal, Glycerin, Linalool, Hydroxycitronellal, Propanediol, Geraniol, Camellia Sinensis (White Tea) Leaf Extract, Citronellol, Scutellaria Baicalensis (Ougon) Root Extract, Perilla Ocymoides (Shiso) Leaf Extract, Sodium Benzoate, Beta-Glucan, Potassium Sorbate, Citric Acid, Cellulose Gum, Perilla Ocymoides (Shiso) Seed Extract, Sodium Bicarbonate, Ethylhexylglycerin, Platinum Powder
Please be informed that THANN reserves the right to change or adjust the formulation for optimum result without prior notice. Please refer to the ingredient list on the product package you receive for the most up to date list of ingredients.
New to Thann?
We Focus On Your Total Wellness
For over 20 years, we provide remedies with aromatherapy and natural goodness for today's hectic lifestyle.
More than ever, our modern way of living creates mental and physical imbalances.
UV Exposure, Late Nights, Prolonged Stress and Processed Foods are some examples of how our body and mind can be negatively impacted.
Learn More
Check it Out
Monthly Promotions
Don't miss out on Thann's monthly promotion, featuring discounted prices on a select group of high-quality skincare and aromatherapy products. Sign up for their newsletter to stay up-to-date on the latest deals and special offers, and treat yourself to some luxurious products at a great price.
Learn More