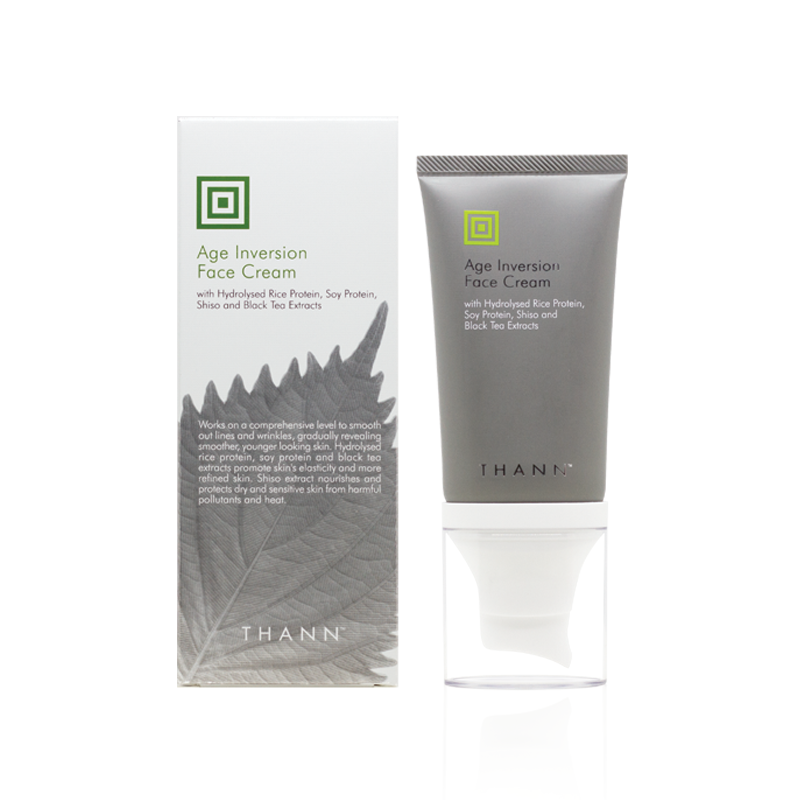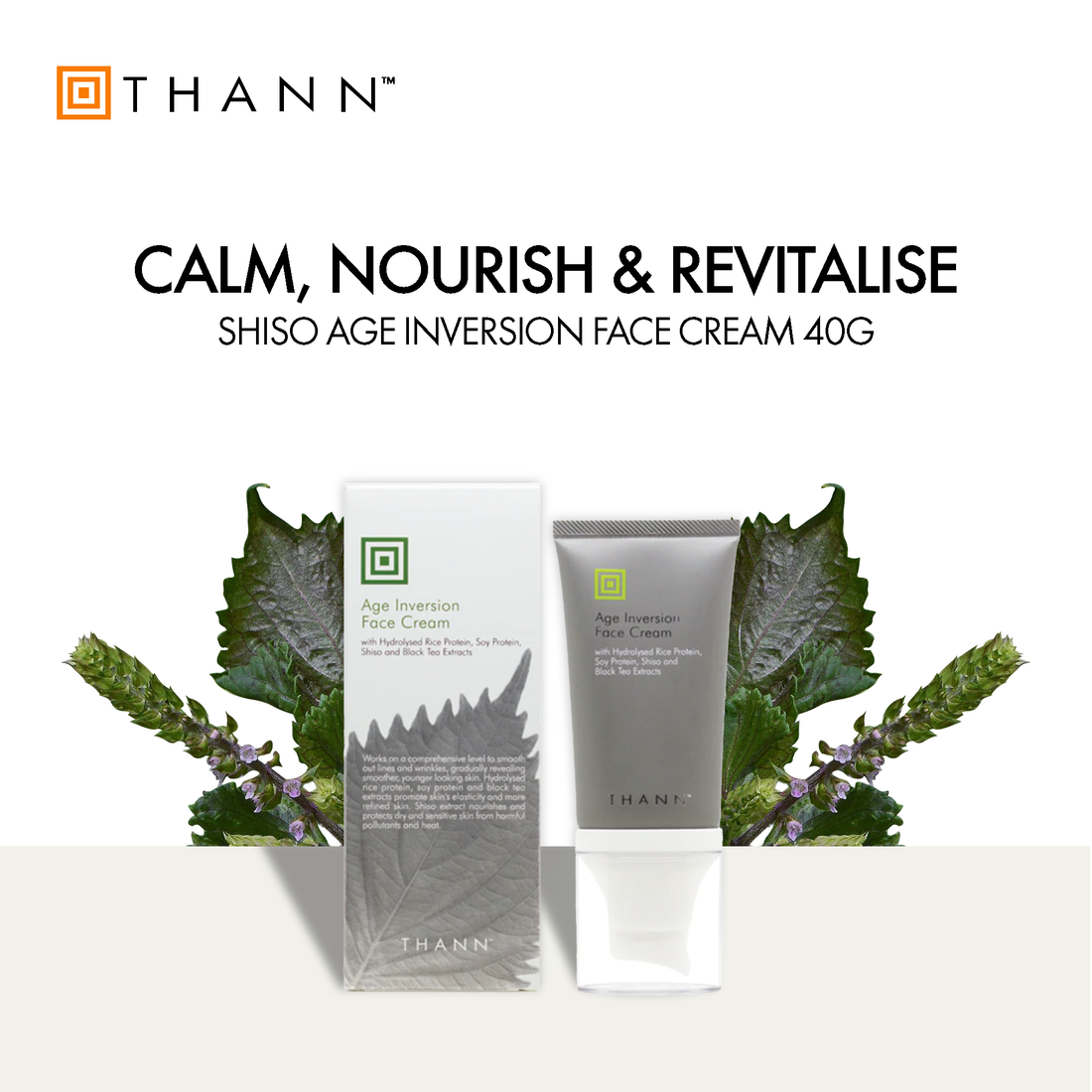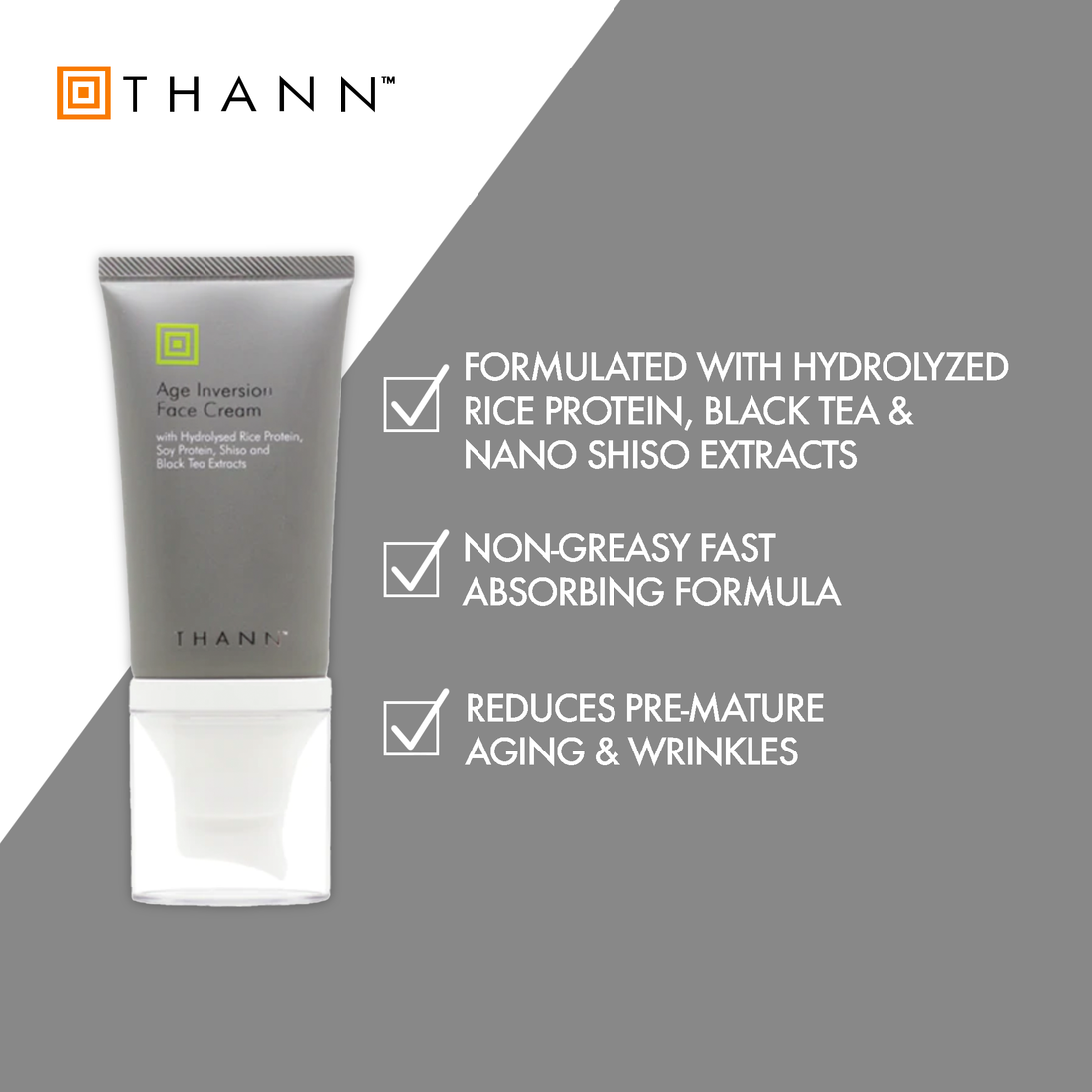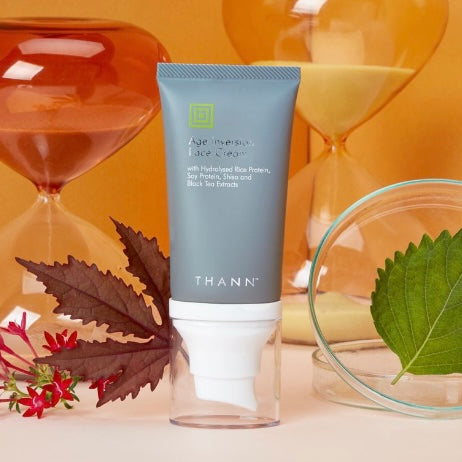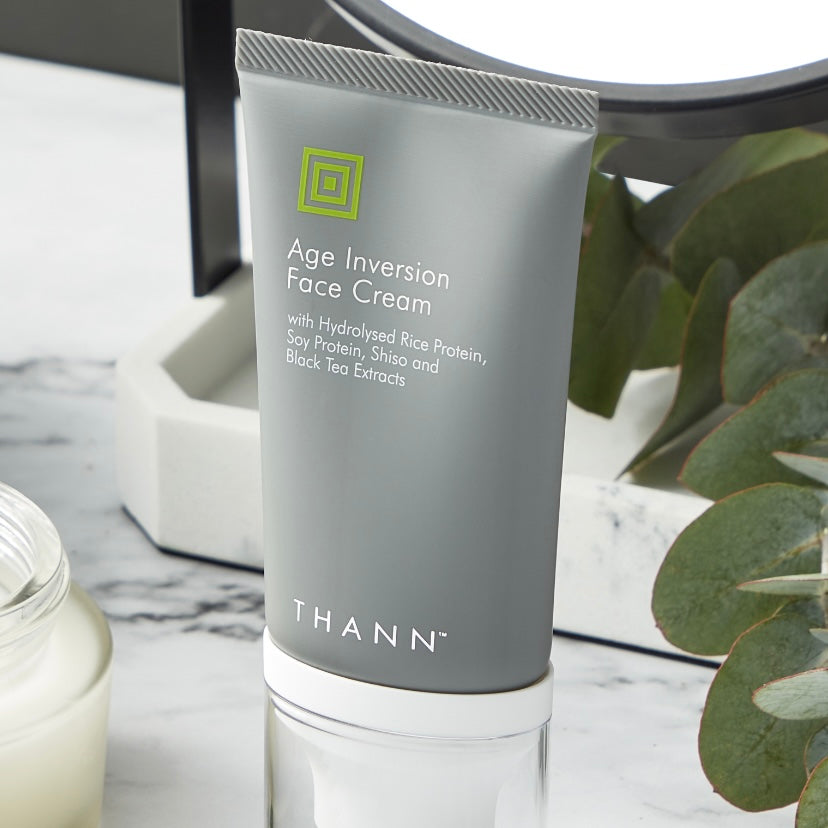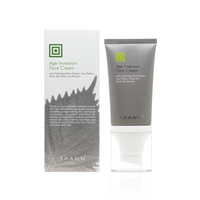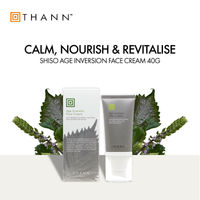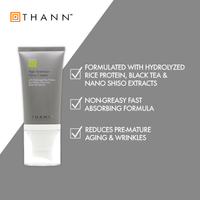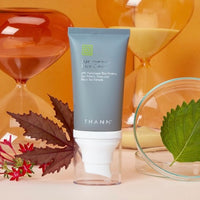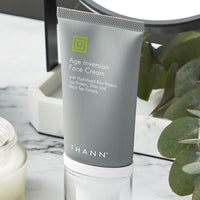 Shiso Age Inversion Face Cream 40g
with Hydrolyzed Rice Protein, Soy Protein, Black Tea (Kombucha), Nano Shiso Extracts
Using the latest technology that works on a comprehensive level of the skin and natural extracts to moisturize, smooth out fine lines and wrinkle, improve elasticity, gradually reveal a younger-looking skin.
The lightweight cream quickly absorb into the skin without leaving any greasy-feeling. 
Key Ingredients:
- Black Tea (Kombucha) Extract contains antioxidants that help neutralize free radicals and protect against pollution, increases luminosity and smoothes skin for younger-looking complexion.
- Hydrolyzed Rice Protein and Soy Protein enhance collagen production and restore elasticity to the skin.
- Nano Shiso Extract provides the benefits of skin hydration and antioxidant that protect dry and sensitive skin from harmful pollutants and free radicals. 
Dermatologically Tested • No Artificial Color • Paraben Free • Mineral Oil Free • Petroleum Oil Free • Cruelty Free
Efficacy Test:
82.4% of volunteers' skin show a decrease in wrinkles*
31.3% reduction in wrinkles*
*Replica analysis tested result with twice daily use after 28 days by Spincontrol Asia Co., Ltd (France)
Size: 40 g / 1.41 oz.
Main ingredients
Youthful & healthier complexion 
Efficacy test results
 
*Replica analysis method tested result in 17 volunteers of twice daily use after 28 days by Spincontrol Asia Co.,Ltd. (France)
Testimonials 
@抠脚大师
这款面霜是在上海日上免税店买的。
THANN的明星产品是紫苏防晒霜和紫苏焕肤面膜,这两个产品我也有,迟点码
这款面霜还是蛮让我惊喜的一开始以为是很厚重的面霜质地,轻拍上面后,吸收得挺快的,完全无负担。
原以为夏季用太油了,磨合几次后发现,它的吸收效果真的很好,不会腻,白天简单涂了它就出门,一天下来,也不会出油,脸上也没有涂抹过护肤品的厚重感(虽然是干皮,但比油皮还讨厌油腻)~
• Dermatologically tested  • No artificial colour  • Paraben free • Mineral oil free • Petroleum oil free
INGREDIENTS
Aqua, Cyclomethicone, Glycerin (Palm derived), Ethylhexyl Palmitate (Palm derived), Simmondsia Chinensis (Jojoba) Seed Oil, Oryza Sativa (Rice) Bran Oil, Dimethicone, Stearic Acid (Palm derived) , Glyceryl Stearate (Palm derived), Cetearyl Alcohol (Palm derived), Polysorbate 60 (Palm derived), Sorbitan Stearate (Palm derived), Phenoxyethanol, PEG-100 Stearate, Dimethicone Crosspolymer, Carbomer, Chlorphenesin, Citrus Aurantium Dulcis (Orange) Oil, Parfum, Disodium EDTA, Sodium Hydroxide, Glycine Soja (Soybean) Protein,  Saccharomyces/Xylinum Black Tea Ferment (Kombucha derived), Imperata Cylindrica Root Extract, Fomes Officinalis (Mushroom) Extract, Hydrolyzed Rice Protein, Perilla Ocymoides (Shiso) Leaf Extract , Xanthan Gum, Triticum Vulgare (Wheat) Germ Oil, Hexyl Cinnamal (0.015 %w/w), Limonene (0.0147 %w/w), Butylphenyl Methylpropional (0.0098 %w/w), Linalool (0.0094 %w/w), Citronellol (0.0057 % w/w), Geraniol (0.0039 %w/w)
Please be informed that THANN reserves the right to change or adjust the formulation for optimum result without prior notice. Please refer to the ingredient list on the product package you receive for the most up to date list of ingredients.
New to Thann?
We Focus On Your Total Wellness
For over 20 years, we provide remedies with aromatherapy and natural goodness for today's hectic lifestyle.
More than ever, our modern way of living creates mental and physical imbalances.
UV Exposure, Late Nights, Prolonged Stress and Processed Foods are some examples of how our body and mind can be negatively impacted.
Learn More
Check it Out
Monthly Promotions
Don't miss out on Thann's monthly promotion, featuring discounted prices on a select group of high-quality skincare and aromatherapy products. Sign up for their newsletter to stay up-to-date on the latest deals and special offers, and treat yourself to some luxurious products at a great price.
Learn More