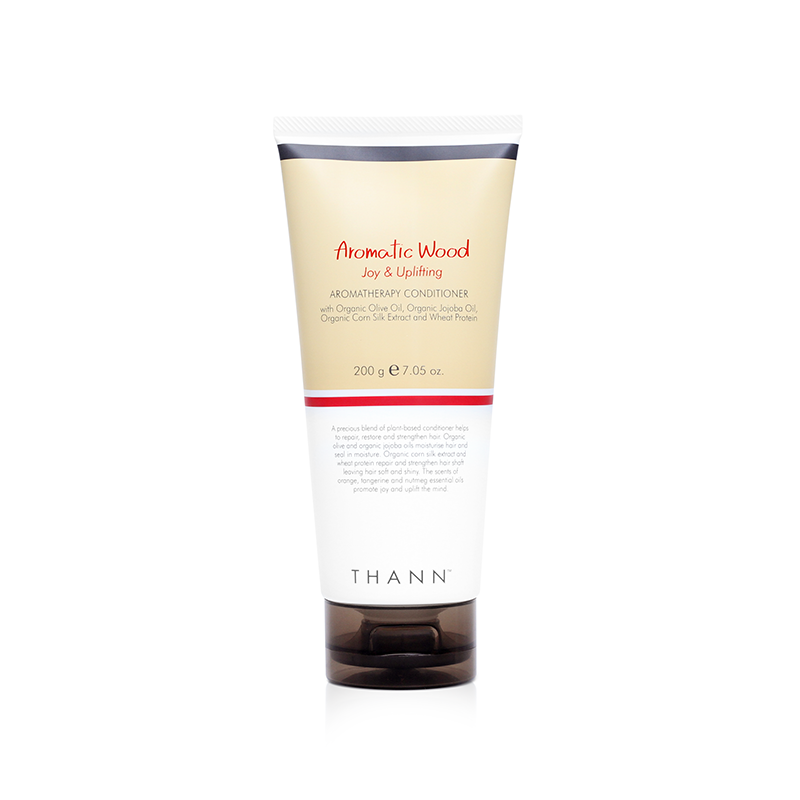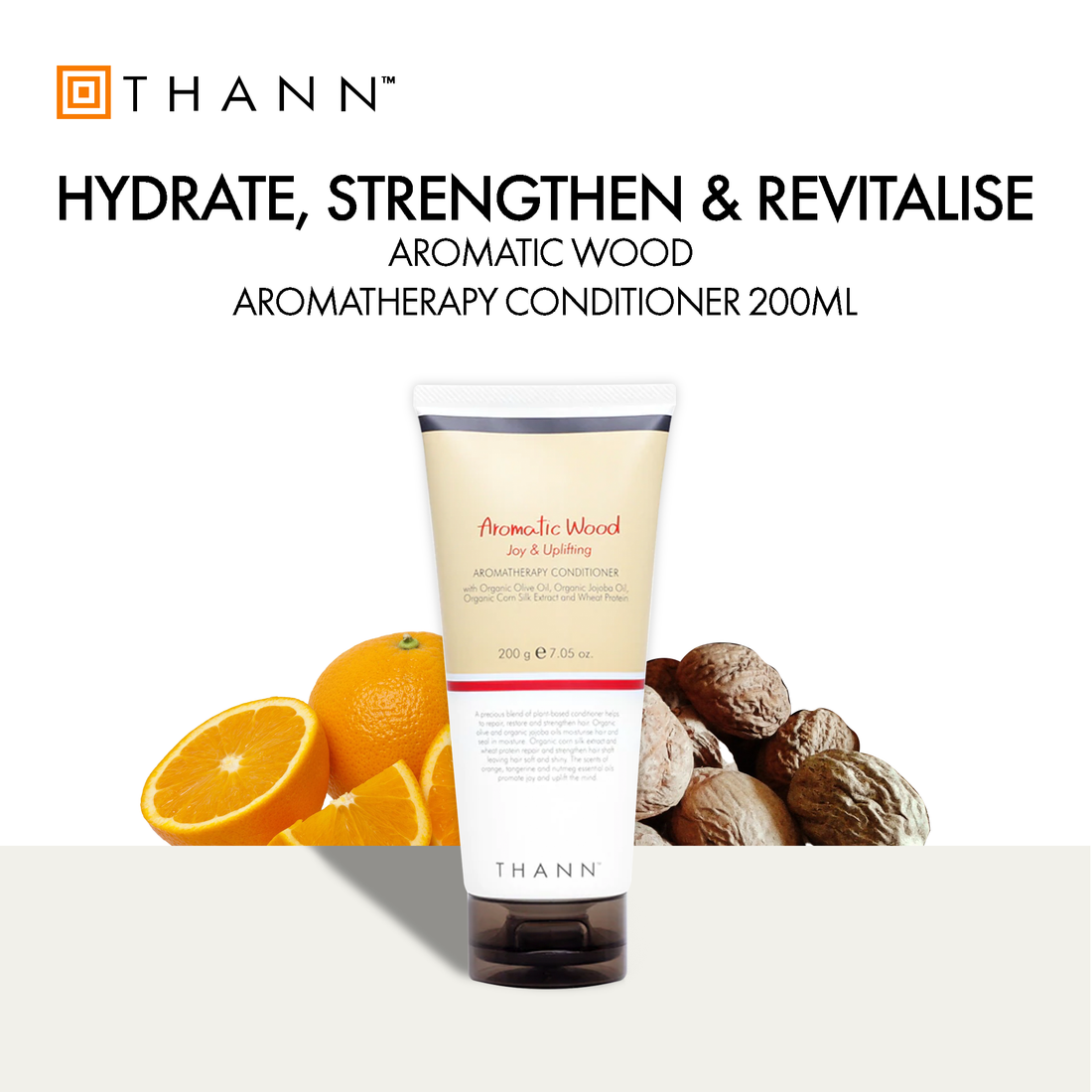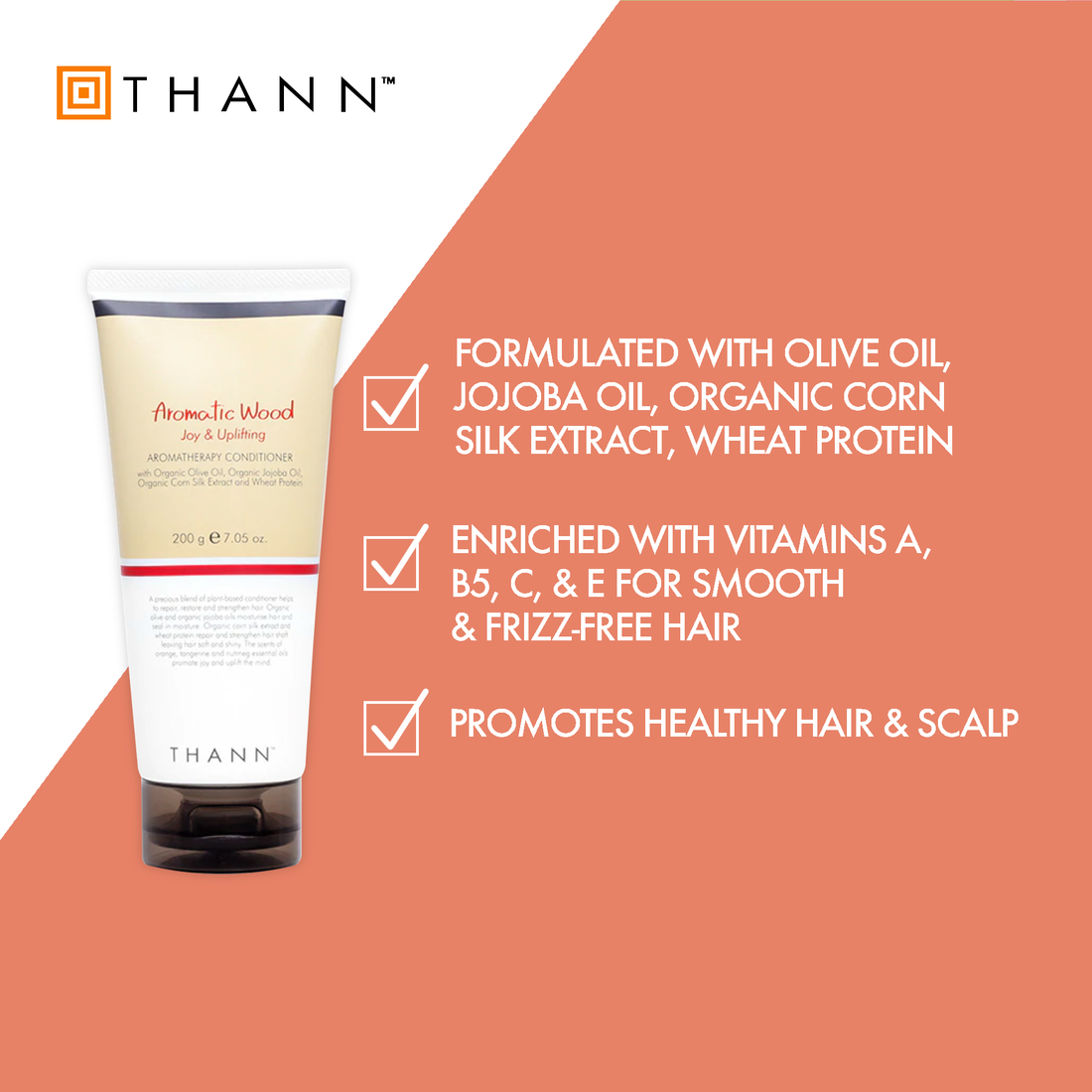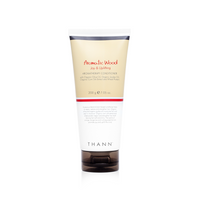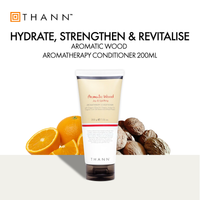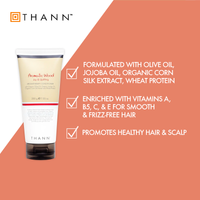 Aromatic Wood Aromatherapy Conditioner 200ml
With Organic Olive Oil, Organic Jojoba Oil, Organic Corn Silk Extract, and Wheat Protein
A hair conditioner that enriched with 96% of natural extracts, contains hair beneficial Vitamin A, B5, C, and E to optimize hair and scalp natural moisture balance for a soft, smooth and frizz-free hair. 
Organic Corn Silk smooths and adds shine to hair. Organic Olive Oil balances hair natural moisture and encourages hair growth. Organic Jojoba Oil, Rice Bran Oil, and Wheat Protein moisturize and strengthen the hair.
Dermatologically tested • Paraben Free • Sulfate Free • Mineral Oil Free • No Artificial Color • No Artificial Fragrance
Main ingredients 

Testimonials 
这一系列是东方配方系列的,是他们家我最喜欢的一套洗发护发产品。秉承一贯的高级精油spa品牌,所以价格比起一般的洗发水会有点贵,但是一直很注重头发的护理的人一定要入手一套。
瓶口的设计非常巧妙,把瓶口向不同方向旋转向下按,洗发水就会被按出来。用完之后再拧回来,一点也不浪费。250ml的容量我却能用一个半月,最重要的是我是大油田,以前需要每天洗一次头发,会很伤头皮,但是用了thann的洗发水之后每次洗完都会觉得很清爽,仿佛自己也置身于香薰spa天堂而且每两天洗一次头发。
因为我在泰国上学,所以在曼谷市中心买的这一套洗发水和护发素,我自己绝对是thann家的脑残粉,已经买了很多他们家东西,之后再跟大家分享喽!
• Dermatologically tested • Paraben free • Mineral oil free • No artificial colour
INGREDIENTS
Aqua (Water), Cetearyl Alcohol, Cetyl Alcohol, Palmitamidopropyltrimonium Chloride, Dimethicone, Phenoxyethanol, Citrus Aurantium Dulcis (Orange) Peel Oil Expressed, Limonene, Amodimethicone, Myristica Fragrans (Nutmeg) Kernel Oil, Citrus Tangerina (Tangerine) Peel Oil, Diethyl Phthalate, Guar Hydroxypropyltrimonium Chloride, Hexamethylindanopyran, Oryza Sativa (Rice) Bran Oil, Panthenol, Linalool, Ethylhexylglycerin, Cetrimonium Chloride, Cyclotetrasiloxane, Citric Acid, *Simmondsia Chinensis (Jojoba) Seed Oil, Trideceth-12, Isoeugenol, Cyclopentasiloxane, Sodium Benzoate, Hydrolyzed Corn Protein, Hydrolyzed Soy Protein, Hydrolyzed Wheat Protein, Citral, *Olea Europaea (Olive) Fruit Oil, Phospholipids, Oryza Sativa (Rice) Extract, Helianthus Annuus (Sunflower) Seed Oil, *Zea Mays (Corn) Silk Extract, Leuconostoc Ferment Filtrate, Soybean Peroxidase, Superoxide Dismutase 
* Organic Simmondsia Chinensis (Jojoba) Seed Oil
* Organic Olea Europaea (Olive) Fruit Oil and
* Organic Zea Mays (Corn) Silk Extract certified by USDA,USA
Please be informed that THANN reserves the right to change or adjust the formulation for optimum result without prior notice. Please refer to the ingredient list on the product package you receive for the most up to date list of ingredients.
NEW TO THANN?
We Focus On Your Total Wellness
For over 20 years, we provide remedies with aromatherapy and natural goodness for today's hectic lifestyle.
More than ever, our modern way of living creates mental and physical imbalances.
UV Exposure, Late Nights, Prolonged Stress and Processed Foods are some examples of how our body and mind can be negatively impacted.
Learn More
Check it Out
Monthly Promotions
Don't miss out on Thann's monthly promotion, featuring discounted prices on a select group of high-quality skincare and aromatherapy products. Sign up for their newsletter to stay up-to-date on the latest deals and special offers, and treat yourself to some luxurious products at a great price.
Learn More