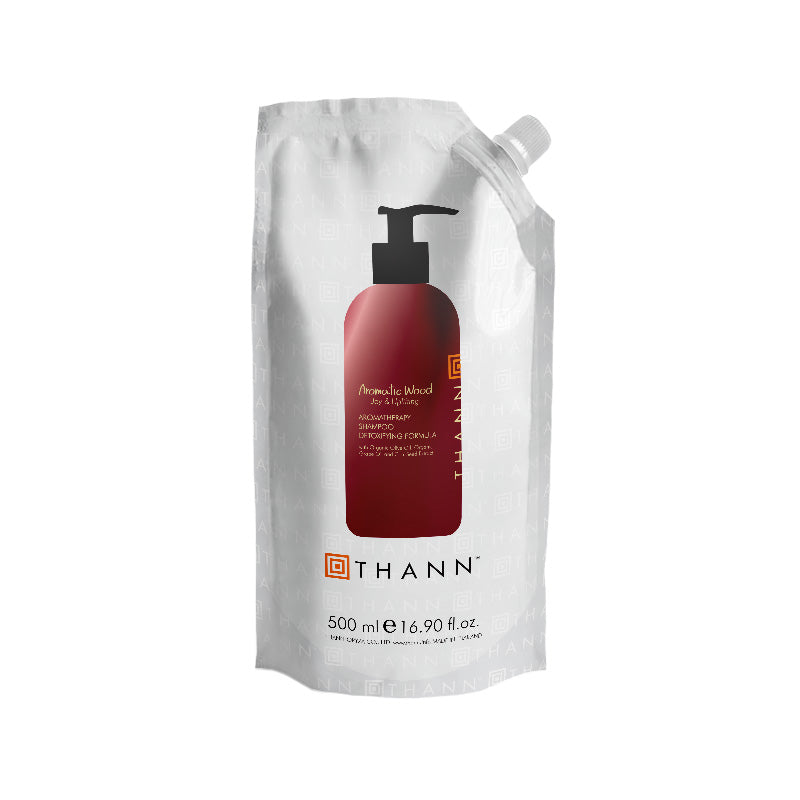 Aromatic Wood Shampoo Detoxifying Refill Pack 500ml
Provides the benefits of moisturising wheat protein to increase hair's ability, retain moisture, add volume to hair and improve smoothness. Orange essential oil clarifies and moisturises hair. Nutmeg essential oil has an antiseptic property. Olive and sunflower oils nourish and add extra shine. Suited for normal or oily hair.
Main ingredients 

Testimonials 
THANN是泰国本土的品牌,做香薰很出名,本宝宝非常喜欢精油香薰产品,所以刻意找过去看了看
问了营业员,红瓶是卖得最火的洗发水果断入了一瓶,清洁效果非常好,非常容易起泡,一般洗头第一遍我都是用它
这一系列是东方配方系列的,是他们家我最喜欢的一套洗发护发产品。秉承一贯的高级精油spa品牌,所以价格比起一般的洗发水会有点贵,但是一直很注重头发的护理的人一定要入手一套。
瓶口的设计非常巧妙,把瓶口向不同方向旋转向下按,洗发水就会被按出来。用完之后再拧回来,一点也不浪费。250ml的容量我却能用一个半月,最重要的是我是大油田,以前需要每天洗一次头发,会很伤头皮,但是用了thann的洗发水之后每次洗完都会觉得很清爽,仿佛自己也置身于香薰spa天堂而且每两天洗一次头发。
• Dermatologically tested • No artificial colour and fragrance • Paraben free • Mineral oil free
INGREDIENTS
Aqua, Sodium Laureth Sulfate (Coconut derived), Cocamidopropyl Betaine (Coconut derived ), Decyl Glucoside (Com derived), Cocamide MEA (Coconut derived), Polyquatemium-7, Citrus Aurantium Dulcis (Orange) Oil , Myristica Fragrans (Nutmeg) Oil, Citrus Tangerina (Tangerine) Oil, Guar Hydroxypropyltrimonium Chloride (Guar derived), Fucus Vosiculosus (Bladderwrack) Extract, Helianthus Annuus (Sunflower) Seed Extract, Olea Europaea (Olive) Oil, Phenoxyethanol, Oryza Sativa (Rice) Bran Oil, Methylisothiazolinone
Please be informed that THANN reserves the right to change or adjust the formulation for optimum result without prior notice. Please refer to the ingredient list on the product package you receive for the most up to date list of ingredients.
NEW TO THANN?
We Focus On Your Total Wellness
For over 20 years, we provide remedies with aromatherapy and natural goodness for today's hectic lifestyle.
More than ever, our modern way of living creates mental and physical imbalances.
UV Exposure, Late Nights, Prolonged Stress and Processed Foods are some examples of how our body and mind can be negatively impacted.
Learn More
Check it Out
Monthly Promotions
Don't miss out on Thann's monthly promotion, featuring discounted prices on a select group of high-quality skincare and aromatherapy products. Sign up for their newsletter to stay up-to-date on the latest deals and special offers, and treat yourself to some luxurious products at a great price.
Learn More